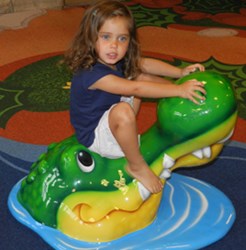 The indoor play area is just one of the ways that we sealed the deal on being the family club in our region.
Denver, CO (PRWEB) September 11, 2013
In 2008, the Glenmoor Country Club Board of Directors took a bold step to assure its club had a vibrant future in the Denver region, authorizing an $8 million remodel of the club facilities.
"The board and staff understood that we needed to serve families with young children better," says Teri Ramirez, Membership Director. "We remodeled the entire interior with modern finishes, which drew a lot of young families. Since 2011, we've had a flood of younger families joining. We now have over 1,200 kids at the club."
This year, those families said they wanted even more play opportunities for their children, so Glenmoor Country Club turned to PLAYTIME, LLC to create an indoor play area that serves children of many ages.
"We're definitely at the front of a growing trend among country clubs to serve families better," says Ramirez. "The indoor play area is just one of the ways that we sealed the deal on being the family club in our region."
PLAYTIME created a custom, soft play area for the club's youngest children, but also added its newest entertainment feature – PlayTouch, a state-of-the-art, interactive video game console with a screen that supports high-definition, three-dimensional (HD/3D) play.
"The play area is now one of the first rooms that I show families when I give tours," says Ramirez. "It's been a really great addition and I believe we're the only club in Denver with a play area like this."
Ramirez explains that the play area is located near the club's restaurant so parents can let their children play as they wait for food, providing a much more relaxing dining experience for everyone.
"Parents absolutely love it," says Ramirez. "Why would they go to any other restaurant if their kids can eat with them and then go play while the parents finish dining in peace?"
Also, Ramirez explains, the play area provides year-round entertainment.
"We work hard to offer family activities year-round, even after the pool closes down for the summer," says Ramirez, adding, "We are at capacity right now, which is unusual compared to most clubs in the United States. We had a head start in 2008 when we made families our focus."