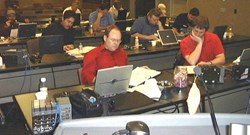 A crash course in how to reduce downtime while working with Allen-Bradley's RsLogix ™ PLC 5 ® and SLC 500 ® software.
St. Louis, MO (PRWEB) September 16, 2013
Industrial Maintenance, Engineers and Managers attending the BIN three-day PLC Training Seminar will find the materials are not only based on the same onsite customized PLC 5 ® and SLC 500 ® PLC training course used to reduce downtime in FDA regulated manufactures, Government Facilities and Fortune 500 companies throughout the United States but they will receive a PLC Trainer with real PLC and extra lessons to take home with them.
"It is widely known and accepted that training courses that are active and hands-on, are more effective for the attendee and they retain more information than learning environments where information is passed along through passive learning scenarios," says instructor, Don B. Fitchett. He adds, "The attendees will always get BIN's all hands-on training, 200meg of extra learning material and even a PLC simulation software, but for these last two courses in 2013, we wanted to give more to every attendee. More valuable resources and the ability to self-serve their learning requirements when they are back at their plant or facility."
BIN's PLC course is not just text book PLC instructions, but practical knowledge and case examples based on years of experience taught by experts in the PLC space. Among the additional benefits for the remaining seminars, an attendee will receive 500 meg of extra learning materials on the USB drive, along with PLC simulation software to practice following the conclusion of the seminar. The remarkable giveaway to all attendees is the PLC Trainer with real PLC and extra lessons they take home so they can keep raising their skill level with the hands-on training even after leaving the seminar.
This is where preparation and opportunity meet and are providing the tools to ensure they "Use It" so they "Don't Lose It". Maintenance professionals working with Allen- Bradley™ Programmable Logic Controller (PLC) will receive (1.6 CEU) for successfully completing the course. For more information about the PLC training offered by BIN or to register, please go to: http://bin95.com/St-Louis_PLC_Training.htm
About Business Industrial Network
(PLC Introduction Video)
Business Industrial Network's (BIN95.com) core business is delivering world class on-site engineering and maintenance training. With over 150 facilities for local training, Business Industrial Network delivers off-site maintenance training in major cities across the United States. Working closely with their partners, Business Industrial Network offers a comprehensive suite of maintenance, management, mechanical and electrical training solutions and software. BIN has maintained an A+ rating with the BBB and is listed in the government's CCR database. For more information on Business Industrial Network please visit: http://www.bin95.com