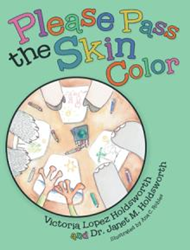 BUDD LAKE, N.J. (PRWEB) February 12, 2019
Diverse animal friends gain a better understanding of racial and cultural differences and identities through a respectful discussion in Victoria Lopez Holdsworth and Janet M. Holdsworth's picture book for children, "Please Pass the Skin Color" (published by Archway Press), illustrated by Ana C. Robles. The characters model positive conflict management, moral courage and understanding as the story plays out.
When the weather is bad, Phoebe the Pig and her friends draw pictures together during inside recess. Phoebe often hears her friends ask one another to "please pass the skin color," when they want the grey crayon since most of her friends have that color skin or fur. However, Phoebe also notices that George the Giraffe, Finn the Frog and Bonita the Bear don't ask that question. One day when Eloise the Elephant asks Phoebe to "pass the skin color," Phoebe gives her the pink crayon and points out that not everyone is the same color. After some discussion, all the friends agree to just ask for the color of crayon they want.
"'Please Pass the Skin Color' shows kids that we are all of different colors and backgrounds but that no one color or background is most important," the author says. "It also offers children a better understanding of how words matter and can impact others, serves as a positive example of how we can all respectfully express and settle differences in views, and provides parents and teachers a way to begin discussions related to the recognition, inclusion and celebration of differences."
The book is available for purchase at: https://www.amazon.com/Please-Color-Victoria-Lopez-Holdsworth-ebook/dp/B07L3PKFL7.
"Please Pass the Skin Color"
By Victoria Lopez Holdsworth and Janet M. Holdsworth
Hardcover | 8.5 x 11 in | 28 pages | ISBN 9781480865099
Softcover | 8.5 x 11 in | 28 pages | ISBN 9781480865075
E-Book | 28 pages | ISBN 9781480865082
Available at Amazon and Barnes & Noble
About the Author
Victoria "Tori" Lopez Holdsworth is a sixth grade student at The Morristown-Beard School. Born in Guatemala, she lives with her forever family in the U.S. Lopez Holdsworth dances in a community service troupe and volunteers with a hippotherapy program. She loves animals, especially, her dog Boots, three cats, and Lewis, her adopted Alpaca. She also enjoys dance, horseback riding, playing sports and art.
Janet M. Holdsworth, Ph.D., is an adjunct professor and lacrosse coach. She has a Bachelor of Arts in history and political science from Wittenberg University, a Master of Public Administration from the University of South Carolina/University of Charleston and a doctorate in education policy and administration from the University of Minnesota. Holdsworth currently serves as the head coach at Villa Walsh Academy and conducts leadership training workshops with student-athletes through her non-profit Winning for Life. She currently resides in New Jersey with her husband, David, and their two children, Tori and Charlie. She enjoys sewing, writing, hiking and watching her children play sports.