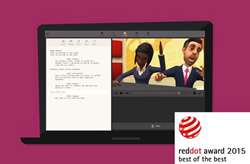 Create original, animated characters and stories just by typing on your iPhone, iPad, Mac or PC.
Stockholm, Sweden (PRWEB) August 14, 2015
Plotagon has been awarded an international "Red Dot Best of the Best Award" in Communication Design for its one-of-a-kind animation app. The Plotagon app enables anyone to quickly create original, animated videos and characters just by typing, then share those creations on social media. It runs on iPhone, iPad, Mac and PC.
Plotagon beat over 7,400 entries to win the Red Dot in the app category. This is Plotagon's third major accolade since the app debuted in July 2014. Plotagon was named one of the "Best New Apps" by the Apple App Store in over 100 countries immediately upon launch. In October 2014, it was recognized in the Fast Company 2014 Innovation By Design Awards alongside brands such as Disney, Google and Nike.
Plotagon has continued to innovate, adding new characters, scenes and features. Recently, Plotagon added a robust Character Creator so users can build their own characters by choosing from a variety of facial features, hair, clothing and more. Users can build animated characters that look like politicians (a Donald Trump comb-over style was just added by popular demand), zombies, space travellers, TV entertainers—the variations are endless. Users can even create themselves as characters and save those as selfies or avatars.
Scenes (settings for characters) include the "Octagonal office," winter wonderland, a cooking show, a hospital, a school corridor, a dark alley, an airplane and dozens of other options. To create an animated video, users simply choose a couple of characters, select their scenes, type words for the characters to say, and press play to see their stories come to life. Users can also add music, sound effects, actions and emotions—all of which can be changed on the fly for nuance and variety. The video "Plotagon in 45 Seconds" shows how it works.
Plotagon's consumer app is free and it includes several characters and scenes, along with the Character Creator. Additional scenes and characters may be added via in-app purchases; most are just $.99 to $1.99 USD each.
Plotagon Education debuted in July 2015 and it offers a private, digital classroom environment (with teacher controls) built on top of the award-winning consumer app. Plotagon Education includes every character, scene and feature in the Plotagon library for just $99 USD per classroom (no in-app purchases necessary) and volume pricing is available for schools and districts.
Plotagon was founded in 2011. It is headquartered in Stockholm, Sweden.
###
About the Red Dot Awards: For decades, the Design Zentrum Nordrhein Westfalen in Essen, Germany (one of the oldest design institutions in Europe) has been awarding the coveted Red Dot to recognize excellence in design. The Communication Design contest received 7,451 entries submitted from 53 countries. Only 81 were named winners and Plotagon won in the app category.
Download Plotagon's app (iOS, Mac or PC): https://plotagon.com/download
Photos, video and background information: http://bit.ly/plotagonnews