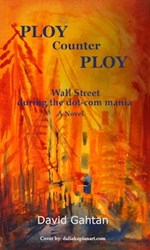 In the context of fast moving vast amounts of money, with the sole purpose of human activity in such a milieu being to capture as much of it as possible, huge rewards and deep disappointments become inevitable consequences.
Providence, Rhode Island (PRWEB) November 07, 2013
'Ploy Counter Ploy' by David Gahtan is a fictional mystery about the unexplained loss of a job and friendships in the setting of the complex maneuvering among competing interests on Wall Street during the height of the dot.com mania of the late 90's. The novel offers ironic observations about the Wall Street of this period and provides a critique of the dominant culture with its "irrational exuberance."
Through the description of business relationships and friendships that develop and fall apart, 'Ploy Counter Ploy' concentrates on the period of the late 90s, when the Internet was in its infancy, still defining its direction, and the dot.com bubble was at its most inflated state. It explores attitudes, objectives and values that were dominant on Wall Street, and the nation as a whole, during this period. It was a euphoric time of absolute conviction about the ease of making money, and lots of it: it was as simple a matter as buying a dot.com stock one day and selling it the next.
But, as is now known, and as was inevitable, this dream-like money-making machine broke down in 2000, when reality eventually intruded. The book, however, focuses on the period of the dot.com bubble itself in the late 90s', not its aftermath.
The story is told from the perspective of a low-key, middle aged Wall Street economist, Karl, whose personality and outlook are antithetical to the dominant culture of Wall Street. Although he attempts to "play the game," he finds it hard to adjust to the competitive nature of his new assignment. Conflicted about some of its ethical undertones, he struggles to maintain his identity in an aggressive world obsessed with large-scale financial deal-making and rife with intrigue.
The central plot involves Karl's new assignment to solicit a large amount of money from Roy, a very wealthy, eccentric and, at times, manic client about Karl's age. The business interaction between Karl and Roy develops into a genuine friendship that also includes a third person, Peter, a young scientist and computer expert, who joined Karl's department in order to create derivative programs. They meet at various NYC locations where their differing personalities and world views become apparent as they delve into a variety of topics: from a critique of contemporary culture to economics, science and philosophy.
Just as Karl is at the critical point of completing a lucrative deal, his assignment ends up a disastrous failure. He is abruptly fired and also finds that his new friendships have suddenly ended. Shocked, confused and financially worried, he struggles to maintain his equilibrium as he tries to uncover the reasons for these inexplicable events.
Parallel to the central subject of the book are a number of inter-woven sub-plots. Karl's romantic interest in Harriet, an ambitious musician and in Sarah, a witty ex-academician about whom he has reservations, has a prominent role in the story. Another vital piece of the puzzle describes Karl's reluctant involvement with Henry, a glib Wall Street go-getter type salesman. Looming in the background is Tim, an archetypal, aggressive Wall Street executive.
"Plot Counter Ploy" was published in ebook format by eBookIt.com. It is available through several popular online retailers: Amazon.com, BN.com, Apple iBookstore and others.
The Author, David Gahtan, Ph.D., worked for 28 years on Wall Street.
Neither story nor characters in 'Plot Counter Ploy' bear any resemblance to actual situations or people; it is strictly fictional.
CONTACT
David Gahtan
401-454-3574
Dagahtan(at)gmail(dot)com
About eBookIt.com
Since 2010, eBookIt.com (based in Sudbury, Massachusetts) has helped thousands of authors and publishers get their books converted to ebook format, and distributed to all the major ebook retailers, including Amazon.com, Barnesandnoble.com, Apple iBookstore, Kobo, Sony Readerstore, Ingram Digital, and Google eBookstore.
###