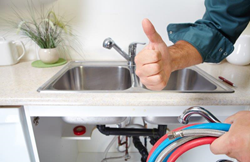 We want to educate residents of Vancouver Washington about their plumbing systems and offer some do it yourself tips.
Vancouver, WA (PRWEB) August 13, 2015
All County Plumbing in Vancouver WA just released a series of three blog posts that provide in detail information about replacing a water heater, drain cleaning, and also how to stop a toilet from running.
These posts can be found at:
Is Your Water Heater Needing Replacement?
Mistakes to Avoid when Cleaning Your Drain
The first blog discusses the water heater and how to tell when it is nearing the end of its life. The main focus of this post is to outline the importance of taking care of this ever-running system, and also to stress getting a new one when the time comes. The two major signs that signify that it's time to replace a hot water system are loss of output and age. All County Plumbing wants to inform customers about the importance of seeking the help of a professional Vancouver, WA plumber when it is time to replace this system.
The second blog talks about cleaning a drain, and the mistakes to avoid when doing this alone. Attempting to fix a clogged drain without professional help may cause harm to the plumbing system and might lead to more expensive problems. All County Plumbing also talks about the importance of seeking a professional plumber to regularly clean and inspect the pipes within the home. They believe that this alone can help the pipes drain properly and prevent clogs.
The third post shares a bit of advice about toilets that do not stop running. Running toilets can lead to high water bills, as well as bigger problems down the road. These tips include: looking inside the tank, checking to see if the valve is covered, finding and lowering the float, doing a test flush, and replacing parts if necessary. Each of these steps can help to determine if the running toilet can be fixed by the resident or if help from a Vancouver WA plumbing professional is needed.
The main goal of these posts is to help residents of Vancouver Washington learn about their plumbing systems within their homes. All County Plumbing believes that education can help their customers know when they can try to fix plumbing problems themselves, and when they should seek help.
About All County Plumbing
All County Plumbing is a Vancouver WA Plumber that provides residential and commercial plumbing services to the Clark County Area. They are available 24/7 for plumbing related emergencies. They stand behind their work and are fully licensed. They want to help their clients get their lives back to normal as soon as possible after plumbing issues are detected by providing quality services at an affordable price.