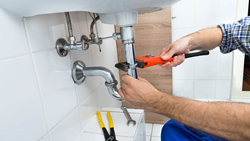 At All County Plumbing, we want our customers to know when they can fix issues without assistance and when its time to call a reputable plumber.
Vancouver, WA (PRWEB) September 11, 2015
All County Plumbing in Vancouver WA recently released a blog post discussing the types of problems that might require the help of professional. It can sometimes be difficult to determine whether a problem is serious enough to call a Vancouver WA plumber, and All County Plumbing wants to make sure that their customers are educated about their plumbing systems so they do not end up under water… literally!
The post is titled: 5 Reasons to Call Your Vancouver WA Plumber Right Away. View it here.
The main purpose of this post is to discuss the situations in which a person may need professional plumbing services to get life back to normal.
All County Plumbing goes on to discuss these scenarios in great detail, first focusing on when the faucet will not stop dripping. They believe that this is a common dilemma that most individuals have dealt with at some point or another. They suggest that while some people may not view this as a large problem because of how small the drip is, that it can be a big problem.
They state that "This overlooked problem can be a big water waster, a leak of one drip per second can waste up to 3,000 gallons of water a year!" Further, a leak like this could be a sign that there is something more serious going on.
Another issue that All County Plumbing mentions is when a bathtub won't drain. When there is a clog, it is suggested that it is dealt with immediately. It will only get worse with time, and may eventually lead to standing water.
All County Plumbing also sheds light on the issue of when water is not flowing correctly. Poor or inconsistent water pressure can be a cause for concern. The main sign of an issue is if the entire home is experiencing water pressure problems. If it's only a few fixtures, it may simply be a build up problem.
Frozen pipes are another area where a professional plumber may be necessary. This can be a nightmare for many during the winter months and All County Plumbing believes that the biggest fear is that it may lead to a cracked or broken pipe. This can be a costly and cold situation.
Lastly, All County Plumbing believes that a clogged toilet that is not relieved by a plunger may require the help of a plumber. They consider this an urgent problem because if a plunger cannot undo the clog, there may be a sewage line issue. A professional will have the tools and experience necessary to solve this problem.
All County Plumbing has a passion for serving their clients and getting them back into their daily lives as quickly as possible. They state that they offer a wide variety of services as well as a blog that provides information to help people better understand their plumbing systems.