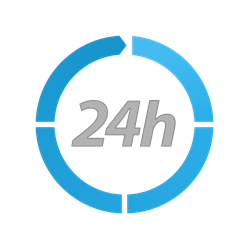 We anticipate helping homeowners get ready for the holiday season by fixing broken or malfunctioning plumbing around their homes
Wilmington, Delaware (PRWEB) December 11, 2013
As winter arrives in the United States, so do a new rash of plumbing problems in homes or businesses, such as frozen pipes, clogged drains or malfunctioning faucets. A new website by 24h Local is helping its visitors to get answers to plumbing questions by offering a complimentary service delivering answers in 24 hours.
The third site successfully launched by 24hLocal, 24hPlumber.com helps homeowners with a variety of issues. Questions answered by industry professionals the site is a simple problem solver to what can seem complicated without the assistance of someone in the know. Site visitors need only to create an account by registering for the service and when confirmed, they can then ask any plumbing related question and will receive a professional's answer. Communication is first started by entering one's question by way of a text box displayed on every page of the site. Once answered the consumer will be notified by email and a one-one-one informative conversation can begin.
The site has information, resources and answers for multiple categories such as Bathroom, Kitchen, Water Heaters, Pumps and more. It even tackles a home and garden option and also embraces commercial services. If it's a form of plumbing, 24hPlumber.com helps visitors get the answers they need in quickly.
The website is perfect for homeowners who are "at their wit's end"and don't know where to turn over troublesome plumbing issues. Choosing to ask a question at 24hPlumber.com brings the power of a professional and helpful plumber to right the asker's home or business. Soon the site will connect web visitor's with local deals in their area as well, with the 24h Shop.
About 24h Local:
24h Local, basted in Wilmington, Delaware, is the parent company of 24hComputerRepair.com, 24hApplianceRepair.com and 24hPlumber.com.