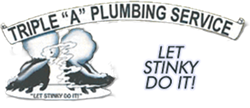 We decided a new 4th of July coupon would be an excellent way to recognize this National holiday
San Jose, CA (PRWEB) June 30, 2015
San Jose plumbers, sewer contractors and trenchless experts at Triple A Plumbing are now offering a new coupon in recognition of the Fourth of July. They are offering homeowners a 10% discount on any plumbing service including costly repairs like trenchless sewer relining and PEX repiping. The new Independence Day discount is available for the entire month of July, the deal expires July 31, 2015. "We are very patriotic and we wanted to do something to give back to the community. We decided a new 4th of July coupon would be an excellent way to recognize this National holiday," says Marco of Triple A Plumbing.
The new coupon can be used for all types of plumbing services including drain cleaning. When the drain backs up it is critical to get it opened as soon as possible. "We get a lot of calls over the 4th of July weekend because of the celebrations. When people have company over it puts unusual stress on the plumbing system and unfortunately this is when things clog up or break," says Marco. The new coupon can be used on the 4th of July for people who need an emergency San Jose plumber during the holiday.
Another common call the San Jose plumbers at Triple A Plumbing get during holiday periods is for sewer cleaning. When smaller pipes back up the repair is usually simple according to Marco, but when the main sewer line is clogged it can be more serious. "When the main line backs up it means that eventually every pipe in the house will back up with sewage if the line isn't cleared. One of the main services we recommend for sewer cleaning is hydro-jetting." Hydro-jetting is a sewer cleaning process that uses advanced machinery to send a jet of water through the sewer pipe to cut through any debris.
Triple A Plumbing serves all of Santa Clara County and they are experienced Los Gatos plumbers. They do a lot of work in Los Gatos and nearby cities Saratoga and Monte Sereno. "We have built a great reputation in the smaller cities surrounding San Jose because we have experience dealing with issues they face that are different than our customers experience who live in Silicon Valley," says Marco. Monte Sereno, Saratoga and Los Gatos are in the hills surrounding the valley and the issues they deal with are usually related to problems with underground pipes.
San Jose plumbing experts at Triple A also specialize in water heater repair and replacement. They replace more water heaters than smaller plumbers and they offer very competitive prices. According to Marco the water heater is only supposed to last 8 to 10 years. "If a homeowner has an older water heater we usually recommend replacing it rather than investing repair money into a unit that is near the end of its life, however, if the unit can be fixed we will present that option to homeowner as well."
Triple A Plumbing has built a solid reputation a leading plumber in Santa Clara County. One of the ways they have earned the trust of their customers is providing them with no cost estimates according to Marco. "People trust us because we give them an honest evaluation of their problem and we provide as many repairs options as possible so the customer has a range of options to choose from, and we don't try to upsell them."
These San Jose plumbers want potential customers to learn more about their website. Homeowners can do that by visiting their website. People can find out about the current coupons by giving them a call or reading their press releases. More company information is also available from their many positive online reviews for plumbing companies near San Jose. They have a 5 star rating on Google and Yelp and many positive reviews on Angie's List. To take advantage of the new Fourth of July discount please call (408) 361-8102 now to schedule an appointment with an experienced plumber.
Triple A Plumbing
88 S 3rd St
San Jose, CA 95112
(408) 361-8102