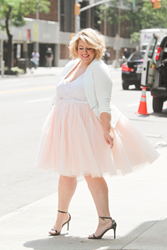 Society+ has a staunch, 100% body-edit free photograph policy and also utilizes models in a range of sizes, races, and body types.
Orlando, FL (PRWEB) January 26, 2016
Society+, an emerging brand in women's plus size fashion, experiencing 30% month-over month growth since opening its doors earlier this year, announces the appointment of four fashion and eCommerce-industry veterans to its advisory board. Society+ is a direct-to-consumer, specialty eCommerce retailer offering women's plus size fashion in sizes 14 – 32 with a focus on authenticity and body positivity. The brand is under the leadership of CEO Michelle Crawford and Creative Director and plus industry veteran, Jessica Kane.
"We're not just selling dresses, we're changing the conversation," says Crawford. "To us, this is about creating a society where all women can thrive and where no woman is marginalized. Each new member of the Society+ Advisory Broad brings tangible, results-driven experience and solutions to our growing business. By recruiting the feedback and advice of such an experienced and seasoned pool, we are paving the way for a smooth period of exponential growth."
The Society+ Board of Advisers

Liz Hershfield currently serves as Chief Supply Chain Officer at Bonobos, Inc and, previously, served as Vice President of Sourcing and Production for the brand, in addition to its sister brands, Maide and AYR. Hershfield is also held Senior Director titles at both Gap Inc and Old Navy.
Ron Ramseyer is the current Managing Partner at Ramseyer & Associates LLC and served as former Senior Vice President of Direct Marketing for Talbots. In addition he served as both President and CEO of Macys by Mail, as well as President of Direct Marketing for Bass Pro Shops and Executive Vice President and Chief Marketing Officer at the Casual Male Retail Group.
Derek Nicolich is Principal at Cascadia eCommerce Consulting and is a former Logistics executive for Nasty Gal. He also served as Vice President of eCommerce for Stylestalker and Director of eCommerce for Wildfang.
Ramy Boorom is the current President of the Chrisko Development Group and previously served as Managing Partner of Urban Village.
Jessica Kane, Executive Vice President at REAL OmniMedia LLC, Creative Director at Society+ and CEO of Skorch magazine. She also serves on the Board of Advisers for UK Plus Size Fashion Week.
Under the leadership of Crawford, the brand is currently preparing for its Series A investment round, having recently closed a fully funded seed round. Crawford attributes the brands viral success to its commitment to a fresh, fashion-forward design aesthetic and the intensely authentic commitment the brand makes to body positivity. The brand has a staunch, 100% photo-edit free policy and also utilizes models in a range of sizes, races, and body types on its website and social media sites.
According to Hershfield, whose primary focus will be advising Society+ on its product development framework, this authentic brand communication is not only what drew her to align with the company but, also, what she believes is a determining factor to its success.
"Society+ has the ability to do what other plus fashion brands have been unable to do. Their 'real' communications style and commitment to serving plus size women with honest pictures and sizing information creates the opportunity for an intense and genuine customer bond. No other emerging brand has been able to deliver on their promise to truly be customer-centric in its approach. The success that Society+ has seen to date is a fraction of what I believe is in store, especially as we hone in on product development."