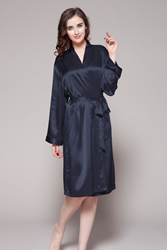 Silk is supposed to be accepted by most of our customers.
(PRWEB) May 14, 2014
Lilysilk, the leading silk manufacturer, has upgraded its silk fabrics of bathrobes from 19 momme weight to 22 momme weight counterparts for days. Their new silk kimonos are well-known for the top-quality materials, refined cuts, and delicate designs. There is no doubt that the 22mm silk robes are popular among ladies and gentlemen. What's more, the company has recently announced 20% off on its plus size silk bathrobes for new and old customers worldwide.
The new collection of silk robes on their website consists of different designs and sizes. From sumptuous silk, to shimmering sheen, or from normal sizes to plus sizes or custom sizes, Lilysilk has everything to ensure customers satisfaction from manufacturing to shipment. Customers will never worry about the expensive shipping cost from China, because the business offers worldwide free delivery within 3-7 working days.
"We are happy to launch this promotion, and thus, the customers will not spend too much money on enjoying the silk robes and other nightwear. Silk is supposed to be accepted by most of our customers. We encourage ladies and gentlemen to keep coming back to our online store to see what new products and promotions are available. Find the best silk products at our site to reward yourself for the hard day's work." says Mike Lee, CEO of Lilysilk.
Those who want to dress silk nightwear at night should visit their online-store as soon as possible, because the promotion is limited. In addition, Lilysilk features similar discounts on its silk nightgowns and pajamas sets for ladies, or silk pajamas sets for gentlemen.
Lilysilk's mission is to "meet each customer's satisfaction" by offering upscale silk sheets and silk sleepwear. Superior customer service, high-quality, speedy delivery, and affordable prices, are the reasons to choose Lilysilk. More information about products and promotions of Lilysilk can be accessed at: http://www.lilysilk.com.