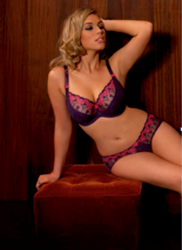 Beautiful girls come in all sizes.
Miami, Florida (PRWEB) September 09, 2013
Fashion–forward business partners Jessica Alliot and Erin Audino have announced the launch of their new website Plus-Size Flirties, an online retail specialty boutique offering high quality, chic, fun and sexy lingerie for full figure women that can't be found in their local department stores.
Alliot and Audino, self-professed "stylistas" with backgrounds in business and finance, share a love of fashion and an eye for quality. Exploring new business options, their mutual love of fashion drew the businesswomen to the plus-sized segment once they realized how neglected this niche is by the fashion industry; department stores offer bare bones plus-size selections and the selections that are available are lacking in quality and style.
"It seemed that despite the acres of beautiful lingerie we found available for average sized women, we were shocked by the lack of pretty, high quality lingerie for women size 14 and up," Alliot says. "Beautiful women come in all sizes, and full figured girls want sexy designer lingerie options just as much as anyone else.
"Plus-Size Flirties provides full figure ladies the same high-quality, beautifully constructed lingerie that is available to their smaller friends."
Both Alliot and Audino believe that the fashion industry has neglected the full figured woman for too long and they aim to change old attitudes and prejudices within the world of fashion.
"There is no reason for any plus-size woman to have nowhere to go to find the lingerie that reflects her flirty, fun self," Audino says. "Retailers seem to be ignoring the fact that 100 million American women wear a size 14 or larger, which is 67 percent of the country's female population."
When it comes to most retail stores and brands distributed in the U.S., the cutoff for stocking a variety of sizes and fashionable clothing options is size 12. With the exception of plus-size retail giants like Lane Bryant (which offers generally dowdy, dated and unflattering looks not representative of today's young, hip fashion trends), the few department stores that do stock plus-size clothing at all keep only a limited inventory, with little to no attention to what women who wear plus sizes actually want. The shopping experience for most plus-size women often begins on an enthusiastic note, but for the most part, they will end up leaving the store empty handed and disheartened.
Retailers continuously ignore the plus-size customer (a growing apparel segment representing $18 billion of the $108 billion apparel industry), but Alliot and Audino are taking a stand against this passive retail discrimination. Their commitment to changing the image of the full figured girl in the eyes of the fashion industry drives their desire to make sure Plus-Size Flirties ticks every box for their customers.
"We offer beautiful designer lingerie items starting at size 14, in a variety of exquisite fabrics and beautifully constructed for fit, comfort, and appearance,"Audino says. "Why this isn't already being done is beyond me.
"We decided to take a stand on behalf of full figured ladies everywhere and their right to feel and look their best, and that became the concept for Plus-Size Flirties."
With Plus-Sized Flirties, Alliot and Audino have established an online collection of the highest quality, brand name lingerie for full figure women; sexy, classy and flirty lines from the same high-end manufacturers that provide flattering pieces for average-sized women.
For more information, visit the PlusSizeFlirties.com website, email, plussizeflirties(at)gmail(dot)com, or call 954-773-9053.
###