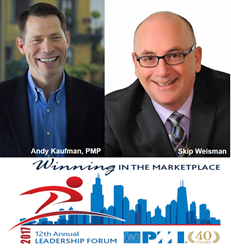 Attend for the experience, meet peers and senior leaders with similar challenges, socialize and form new relationships. Meet Experts and Influencers. Make a connection. Share business ideas. Find a mentor.
Wheeling, IL (PRWEB) March 10, 2017
PMI Chicagoland Chapter is hosting its premier leadership event of the year, 12th Annual Leadership Forum bringing together executives from various industries, facing similar challenges while learning and understanding what it takes to lead in this age of transformation and how to impact your company's organizational culture. The theme "Winning in the Marketplace 2020: Harnessing the power of project management to drive organizational transformation," will highlight the forward thinking project and program management leaders are rapidly embracing within the change implementation process to achieve sustainable organizational growth.
Hear the view from renowned speakers and engage in panel discussions with top level executives, sharing techniques and real examples of management practices leading to success.
Keynote speaker Skip Weisman has presented his engaging and interactive communication programs to more than 15,000 project managers since 2012 in live keynotes, breakout session seminars, full day trainings across North America. This includes 28 PMI chapters, 35 different PMI chapter events, more than 50 presentations with 8-PDD opening/luncheon keynotes, 14-dinner meeting events, 7-full day trainings and 15-PDD breakout sessions. Skip has been a member of the National Speakers Association since 2005 and was invited to become a certified World Class Speaking Coach in 2014. The first 20-years of Skip's career he served as CEO for 5 different professional baseball teams. Following the 2001 baseball season he has been working with small to medium sized businesses, project managers, project leaders, and PMOs to transform interpersonal communication ever since.
Keynote speaker Andy Kaufman, PMP works with organizations around the world, helping them improve their ability to deliver projects and lead teams. Andy is an international speaker, author, and executive coach, focused on helping people learn how to lead more effectively and deliver more reliably. He is a certified trainer and author of three books. Andy is the host of The People and Projects Podcast, which provides interviews and insights to help listeners lead people and deliver projects. Learn more at PeopleAndProjectsPodcast.com or listen using any podcast app.
In addition to the keynote addresses, the following distinguished and seasoned executives, will serve as Panelists at the 12th Annual Leadership Forum sharing real life practices and answering questions on organizational transformation

Deborah Lee, PMP, CSM, former Director, Global Program Management at Gogo
Chris Rodkey, Managing Director, Ops PMO at United Airlines
Phil Weinzimer, President, Strategere Consulting
The Panelists will share their real-life experiences along with the best practices, provide insightful and engaging discussions, and answer questions addressing ways to foster innovation. More information about them can be found at PMI Chicagoland Chapter website.
The public is invited to attend. Please click here to register for the event.
About PMI Chicagoland
With about 4000 members in the Chicago metropolitan area, PMI Chicagoland is one of the largest chapters in the world and one of the most active chapters of the Project Management Institute (PMI) - the world's leading not-for-profit professional membership association for the project, program and portfolio management profession. Founded in 1969, PMI delivers value for more than 2.9 million professionals working in nearly every country in the world through global advocacy, collaboration, education and research.