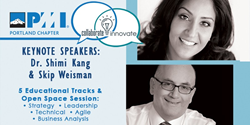 Expand your network by attending our Chapter events. Events offer a variety of topical sessions to informal meetups. Collaborate with like-minded individuals locally to create and share consumable content, tools and resources.
Portland, Oregon (PRWEB) July 11, 2017
USE Registration CODE AC17PRW FOR 10% OFF
PMI Portland Chapter will host their Annual Conference at the Oregon Convention Center on September 14 and 15. This premier leadership event promises to be the largest and most exciting educational experience for the project management community in recent history. Conference attendees can anticipate growing their knowledge, learning from other practitioners and hearing about products and services which support their career goals as well as the project management profession.
The Project Management Institute (PMI) Portland Chapter is the innovative leader in the Northwest region for advancing project management. They are a responsive and collaborative center of excellence promoting ethics, quality, knowledge, skills, integrity and leadership. Their Annual Conference is the largest regional gathering of business, project, program and portfolio professionals who strive to "Collaborate and Innovate" and who realize that their professional development is a continuous element of their career process. As they assess and improve their own skill set, they increase their value to their organization and enhance their career prospects.
The conference will feature two keynote speakers: Dr. Shimi Kang, PhD, is an award-winning Harvard-trained medical doctor, researcher and expert on the science of human motivation. Dr. Kang offers the tools people of all ages need to succeed in the workplace and at home. With over fifteen years of clinical experience and extensive research in the science that lies behind motivation and wellness, Dr. Kang shows people how to cultivate the key 21st century skills needed to flourish both professionally and personally. Skip Weisman, a workplace communication expert, works with small business owners and leaders of non-profit organizations, as well as their employees. He provides practical tools to transform workplace communication to create more positive, productive and profitable organizations. Skip, a former professional baseball executive, served as CEO of 5 baseball franchises over a 20-year career beginning at age 26.
In addition to the keynote addresses, a number of other distinguished and seasoned executives will serve as conference speakers as they share real life practices and answer questions on collaboration, innovation and other topics important for ongoing development of project management skills. More information can be found at PMI Portland Chapter Conference website.
Anyone interested in enhancing their project management skills is encouraged to attend the conference. Please click here to register for the event.
USE Registration CODE AC17PRW FOR 10% OFF
About PMI Portland Chapter
With about 2100 members in the Portland and SW Washington metropolitan areas, PMI Portland is one of the largest chapters in the NW Region and one of the most active chapters of the Project Management Institute (PMI) - the world's leading not-for-profit professional membership association for the project, program and portfolio management profession. Founded in 1969, PMI delivers value for more than 2.9 million professionals working in nearly every country in the world through global advocacy, collaboration, education and research.