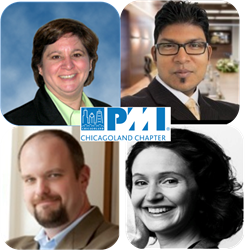 Chicago, IL (PRWEB) February 27, 2014
PMI-Chicagoland, the Chicago chapter of the Project Management Institute (PMI), is delighted to announce a CIO Panel Discussion on Agile Leadership for March's Professional Dinner Event in Chicago--an informative discussion, where panelists can share experiences and respond to your questions.
Register Here for March Dinner Event
Location: William Tell Banquets at the Holiday Inn, 6201 Joliet Road Countryside, IL 60525
Date: Wednesday, March 12, 2014
Time: 5:30 PM – 9:00 PM
PDU: Participants earn 2 PDU's
Registration closing date is Sunday, March 9th, at 6.00 p.m. No refunds or walk-ins permitted.
Spaces are filling up fast so register now to reserve your seat. Come with your questions for the panelists. Don't miss out on this opportunity to meet this group of experts, add to your knowledge and network with other attendees!
Meet the Panelists:
Alison Kassel - CIO, Seaton Corp
Ms. Kassel has over 26 years of experience as a versatile business technology leader, developing strategies, transforming organizations, and delivering solutions enabling organizations to achieve their strategic and operating plan objectives. Prior to joining Seaton, Alison has held significant IT roles for highly respected organizations such as U.S. Cellular, Motorola, McDonalds, Cap Gemini, and Andersen Consulting.
Sanjib Sahoo, CIO - tradeMONSTER Holdings
Visionary leadership and innovative approaches has resulted in award-winning success for Mr. Sahoo who directs all aspects of information technology for tradeMONSTER Holdings' online retail brokerage, tradeMONSTER.com, and its financial media site, optionmonster.com. Sanjib received the prestigious 2013 CIO of the Year award and was finalist for ITA 2013 Technologist of the Year and 2013 Supernova awards. His team also received the 2013 "Outstanding Technology Development" Award.
Brenna Berman, (DoIT Commissioner and CIO) - City of Chicago
Chicago Department of Innovation and Technology (DoIT) Commissioner and CIO, Brenna Berman joined the Emanuel administration in 2011 and has been very successful in transforming the team at DoIT to align with the Mayor's commitment to leveraging data and technology to create a more efficient, effective and innovative City government. Ms. Berman's expertise and experience in promoting government innovation is setting a new standard for government IT.
David Babicz, Sr Manager - West Monroe Partners. LLC
Mr. Babicz, an Agile transformation specialist, has a proven track record of transitioning teams and enterprises to the Agile culture and Scrum practices through a variety of training, coaching and assessment offerings. A certified Scrum Master, Babicz joined West Monroe Partners from Solstice Consulting, where he created and grew that firm's Agile transformation practice. Babicz is very active in the Chicago Agile community.
For more information about these distinguished panelists, visit the PMI-Chicagoland web site here.
PMI Chicagoland Chapter progresses the mission and objectives of the Project Management Institute (PMI) by advancing and promoting the project management profession within local businesses, universities and professional organizations in the Chicagoland area.