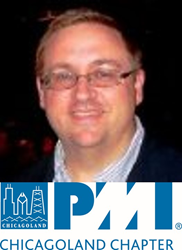 Northbrook, IL (PRWEB) June 12, 2014
PMI Chicagoland, the Chicago Chapter of the Project Management Institute (PMI) is hosting a free joint Knowledge Sharing event on "Business Process" beginning at 6:30 p.m. Tuesday, June 17 at CVS Caremark in Northbrook, IL. Participants can earn 2 PDUs for attending. Price: free.
Time: 6:30 PM - 9:00 PM
Location: CVS/Caremark, 221 Sanders Road, Northbrook, IL 60062 (South Café Conference Room)
Secured building with limited capacity, so you must register by 6/16, in order to be permitted to attend.
To register for this event, please send an e-mail to pmgroup(at)pmi-chicagoland(dot)org with your name, daytime contact number and 1 - 3 questions on "Business Process" that you would like to be discussed at this event.
This Knowledge Sharing Event will be facilitated by Tony Raymond, MBA, PMP,CBPP. Tony will share project initiatives involving the business process and portfolio management decisions.
About Tony Raymond, MBA, PMP, CBPP:
Tony Raymond, MBA, PMP, CBPP is Owner and Principal Consultant of Norwood Consulting Group and a lifelong learner. For the past 15 years (4 of them with Accenture), Tony has helped clients like Allstate, AT&T, BMO Harris, Kraft Foods, MillerCoors, Mondelez, Sentry, and Travelers in the areas of project management, business process management, and change management. Tony is a longtime member of PMI Chicagoland Chapter and is also Chicago Chapter President of the Association of Business Process Management Professionals (ABPMP) - a non-profit, vendor independent professional organization dedicated to the advancement of business process management concepts and its practices.
About our host:
CVS Caremark is dedicated to helping people on their path to better health as the largest integrated pharmacy company in the United States. The Company has more than 7,600 retail pharmacy stores; its leading pharmacy benefit manager serving more than 64 million plan members; and its retail health clinic system, the largest in the nation, it is a market leader in mail order, retail and specialty pharmacy, retail clinics, and Medicare Part D Prescription Drug Plans.
About PMI Chicagoland
With over 4300 members in the Chicago metropolitan area, PMI Chicagoland is one of the largest and most active chapters in the world. Programs are focused on serving local project management practitioners, organizations and universities by providing the tools and support needed to embrace, value, and promote success in project management.
If you would like to become a member of the PMI Chicagoland Chapter, would like to volunteer or know of someone who would like to join the chapter, please visit http://www.pmi-chicagoland.org for more information.