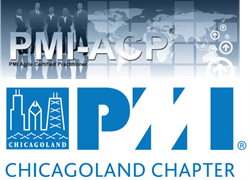 PMI-ACP is one of the hottest growing certifications in the Project Management industry, growing almost 5% month over month!
Chicago, IL (PRWEB) May 29, 2014
According to PMI Today numbers, PMI-ACP is growing almost 5% month over month. PMI ACP® certification from PMI carries a high level of professional standing and credibility requiring a combination of Agile education, experience on Agile methodology and examination on Agile practices. With recent polls showing 5,265 certified members, there is a great opportunity for Agile practitioners to differentiate themselves through certification.
In fulfilling its mission of continued commitment to excellence, the PMI Chicagoland Chapter's goal is to help local practitioners become certified by providing access to affordable Agile training and certification services in early 2015. The Chapter will provide one and two days Agile workshops, in addition to 2.5 days PMI-ACP exam preparation training classes that fulfill requirements for 21 required contact hours for PMI-ACP certification.
"Continued evolution of Project/Program Management methodologies, training and examination systems makes it imperative that individuals achieve certifications along with the skills required to effectively perform their roles in managing Agile projects and teams. PMI-ACP certification training classes will provide great value for Chapter members and local practitioners." - Andrew Soswa, VP Education, Chicagoland Chapter.
Progress has been made at Chicagoland!
In the past three months, a group of ten PMI-ACP Servant-Leaders, led by Andrew Soswa, current Vice President of Education, has successfully completed a ground breaking project; creating and producing training material for the PMI-ACP certification exam.
Due to initial success, the Chapter plans to continue development of the PMI-ACP training material, along with expanding the work to bring Agile experts and trainers at affordable prices onboard to work with the Chapter. Finally the project aims to further expand the understanding and acceptance of the Project Management Institute Agile Practitioner Certification.
Interested in getting involved?
The Chapter is now looking for volunteers who would like exposure to Agile, the PMI-ACP process, and would like to join the group to continue the work that is underway. Not only will you gain PDUs, while networking with fellow Agile PMs through the volunteer efforts, but aiding in the development of exam preparation material amongst the team pioneering the next new certification at PMI Chicagoland!
To find out more about PMI-ACP and how to volunteer for the Agile project, please contact Andrew Soswa, Vice President of Education, at education(at)pmi-chicagoland(dot)org.