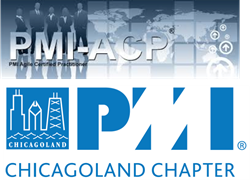 The PMI-ACP Certification program will provide Chapter members the opportunity to continue their professional development in the practice of Agile methodologies. -Andrew Soswa, VP Education, PMI Chicagoland.
Chicago, IL (PRWEB) March 31, 2014
Why PMI-ACP Certification? Agile is a topic of growing importance in project management. The marketplace reflects this importance, as project practitioners increasingly embrace agile as a technique for managing successful projects. Agile processes harness change for the customer's competitive advantage.
Over 14 years ago, a group of software developers and forward-thinking business managers created the Software Agile Manifesto to guide them in producing desired results with ever changing customer requirements. Now, Agile methodologies are used to procure, initiate, plan and execute projects from healthcare to service industries. Agile is de facto recognized as the method of choice to execute many software projects and more companies attempt to incorporate Agile in their daily project management practices.
PMI Chicagoland Chapter begins work on PMI-ACP certification…
In light of the growing importance of Agile, in February 2014, a group of enthusiastic Agile Servant-Leaders, started on a project focused on developing a training program and classroom materials for the PMI Agile Certified Practitioner (PMI-ACP) certification. The project's vision is to make the PMI Chicagoland Chapter the premier provider of choice for a PMI-ACP certification, classroom material, and Agile trainers in Chicagoland.
The group executes the 1st iteration of the project in accordance with Agile Manifesto principles (ie "Working software" and "Responding to change") and Scrum methods of project management. After the product passes three iterations, the final class training and material will be released to the PMI Chapter membership in January 2015 as a three day course for groups with a maximum of 10 students.
Why this is important for PMI Chicagoland Chapter members and their advancement?
"The Chicagoland Chapter is continuously improving and growing the benefits and services offered to the project management community, this program will be another service we can offer to those who want to continue their professional development in the practice of Agile methodologies." Andrew Soswa, VP Education, PMI Chicagoland. PMI-ACP has strict criteria on who is allowed to take the rigorous test and become certified as a Project Manager in Agile methodologies. (See here for details)
To find out more on how to volunteer for the Project Management Agile Project, please contact Andrew Soswa, Vice President of Education here.
The PMI Chicagoland Chapter progresses the mission and objectives of the Project Management Institute (PMI) by advancing and promoting the project management profession within local businesses, universities and professional organizations in the Chicagoland area. To find out more about the chapter and project management resources visit us at our website.