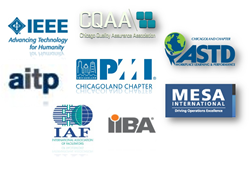 The Fair allows our chapter to leverage its relationships with other professional associations to give our members additional opportunities to enhance their knowledge, skills and career. David Omelka, Director, Professional Association Outreach
Rolling Meadows, IL (PRWEB) April 30, 2014
Learn what local Professional Associations have to offer to help advance your career!
PMI-Chicagoland is delighted to announce a Professional Association Fair, taking place before doors open for the May Chapter Dinner.
This is an opportunity for attendees to meet representatives, in a trade show environment, and learn about what local Professional Associations have to offer to help advance careers and expand areas of experience and expertise in today's competitive market. A wide variety of Industries will be represented including IT, business and manufacturing.
Event Details:
Free Pre-Event to the Chapter Dinner Meeting
Location: Entrance Area to Chapter Dinner Meeting Hall (Meridian Banquets)
Address: Meridian Banquets, 1701 Algonquin Rd. Rolling Meadows IL 60008
Date: Wednesday, May 14, 2014
Time: 4:30 PM – 6:30 PM
ALL WELCOME: Members and Non-Members
Associations Represented include:
AITP - Association of Information Technology Professionals
IIBA - International Institute of Business Analysis
CCQA - Chicago Quality Assurance Association
MESA - Manufacturing Enterprise Solutions Association
IAF - International Association of Facilitators
CCASTD - Chicagoland Chapter of the American Society for Training & Development
IEEE - Institute of Electrical and Electronics Engineers
For more information about these Professional Associations, please click here.
Attendee Take-aways

Learn what these associations have to offer to advance your career
Learn how to be a greater asset to your organization by expanding your experience
Learn best practices to help improve ability to handle job responsibilities which fall outside core competency areas
Receive information that can open the door to new career paths
Learn the value of networking with other professional associations to gain knowledge, best practices and mentoring
Increase your ability to effectively interact with professionals in other disciplines
IPAD GIVEAWAY!!
**All attendees that collect 4 or more stamps from exhibitors they visit during this event, will qualify for entry into a raffle for an iPad Mini.**
How to Get Involved
Interested in being a Chapter Outreach Partner? Visit PMI Chicagoland Chapter website today!
The Project Management Institute, Chicagoland Chapter was chartered in 1977 and with a membership base of over 4,300, the Chapter is one of the largest (6th) and most active chapters in the world. Programs are focused on serving local project management practitioners, organizations and universities by providing the tools and support needed to embrace, value and promote success in project management. Chapter members enjoy discounts on events, receive Chicagoland Chapter publications, certification information and benefit from resources in professional development, mentoring, networking and community outreach.