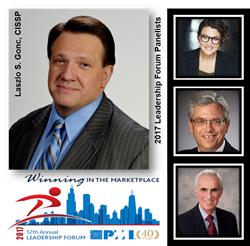 Attendees at this year's forum will have an opportunity to learn from industry leaders what it takes to lead in this age of transformation and drive change in your organization's culture," Laszlo S. Gonc, Chair of Leadership Forum 2017, PMI Chicagoland
Wheeling, IL (PRWEB) March 30, 2017
PMI Chicagoland Chapter is hosting its 12th Annual Leadership Forum bringing together executives from various industries, facing similar challenges implementing strategic initiatives. The theme, "Winning in the Marketplace 2020: Harnessing the power of project management to drive organizational transformation, will highlight what it takes to lead in this age of transformation and how to impact your organization's culture. Most value-driven projects and programs require organizational and behavioral change.
Laszlo S. Gonc, Chair of Leadership Forum 2017; Partner – Security, IT Risk & Compliance Practice will be the Moderator. Skip Weisman and Andy Kaufman, PMP, renowned keynote speakers, will address the audience during sessions prior to the panel discussions, as announced in Previous Press Release.
The Panelists below in the Panel Discussion will share their real-life experiences and answer questions addressing change implementation processes to achieve sustainable organizational growth.
Deborah Lee, PMP, CSM
Experienced Global Leader
PMO, Airlines, Aerospace, Aero Communications, Inflight Connectivity and Entertainment, eCommerce, Kiosk and Mobile development
Former Director, Global Program Management at Gogo
Deborah Lee is former Director, Global Program Management at Gogo and seasoned airline leader from United Airlines. She helps Airlines and Aero Communication companies implement large scale, cross- functional programs from inception to sustainment. Deborah believes success comes from program teams that fully synthesize how their efforts bring value to the business and focus on the customer. Over the last 20+ years, Deborah has led implementation of large scale innovative new technology products to the mass market. The results of her team's kiosk efforts have been recognized by Forrester's as one of the leading user experiences in the airline industry and deemed the "largest" cutover in airline history after migration to a web-based platform. She has received awards of excellence, achieved double-digit gains in productivity and has pioneered several "firsts" in aviation.
Christopher Rodkey
Managing Director, Ops PMO at United Airlines
Former VP & GM of Space Networks and Communication and CIO for Americas Service Region at General Electric Healthcare
Christopher Rodkey is the Managing Director, Ops PMO working with highly skilled professionals to maintain revenue margins and worker productivity. As a former VP & GM, Chris delivered technically complex programs for NASA, the military and other government agencies by providing expertise in satellite ground system design and integration, operations and maintenance, inspection and audit service, and upgrades of remote tracking stations.
Phil Weinzimer
President, Strategere Consulting
Speaker, Coach, Consultant, Journalist
Phil Weinzimer is president of Strategere Consulting and works with clients to develop business and IT strategies that focus on achieving business outcomes. Phil has written two books, the most recent, The Strategic CIO: Changing the Dynamics of the Business Enterprise, focuses on how strategic CIOs leverage information and technology for competitive advantage. Additionally, he writes a column for CIO.com column: Transforming IT for Business Success and AITS.org-The Strategic CIO, and has co-authored a Harvard Case Study. Phil also conducts video interviews of IT Thought Leaders on his service The Strategic CIO. Phil speaks regularly at CIO & IT events on IT Strategy and How Strategic CIOs and IT organizations are changing the dynamics of the business enterprise
"Attendees at this year's forum will have an opportunity to learn from industry leaders what it takes to lead in this age of transformation and drive change in your organization's culture," said Laszlo S. Gonc, Chair of Leadership Forum 2017. The Forum is open to the public and will be held at the Chevy Chase Country Club, in Wheeling, IL, on May 5, 2017, from 7:30 am to Noon.
The PMI Chicagoland Chapter also has a discount code that takes $10 off the admission price for both members and non-members. This code will ONLY will be active from April 12-16. Registration at the PMI Chicagoland Chapter web site, using the Discount Code: 2017discountLF.
About PMI Chicagoland
With about 4000 members in the Chicago metropolitan area, PMI Chicagoland is one of the largest chapters in the world and one of the most active chapters of the Project Management Institute (PMI) - the world's leading not-for-profit professional membership association for the project, program and portfolio management profession. Founded in 1969, PMI delivers value for more than 2.9 million professionals working in nearly every country in the world through global advocacy, collaboration, education and research.