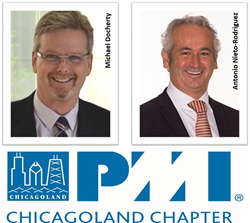 Executives will share successful practices for creating a culture of transformative innovation
Wheeling, IL (PRWEB) February 03, 2016
PMl Chicagoland is hosting its premier leadership event of the year, the 11th Annual Leadership Forum, on May 20, 2016, from 7:45 a.m. to 3:00 p.m. at the Chevy Chase Country Club, 1000 N Milwaukee Ave., Wheeling, IL 60090.
This is an exclusive, invite-only event, bringing together executives from various industries, who are facing similar challenges implementing strategic initiatives. The theme, "Strategy for Innovation: The PM Advantage", will highlight the key role that project managers have in linking up established companies with start-up companies, to foster innovation. "Executives will share successful practices for creating a culture of transformative innovation," says Jerome Rowley, Director of Executive Council, PMI Chicagoland Chapter. Attendees will gain practical leadership insight, and have an opportunity to network with peers from Chicagoland companies.
Hear the view from internationally renowned speakers and engage in panel discussions with top level executives, sharing techniques and real examples of management practices leading to success.
Keynote speaker Michael Docherty, CEO of Venture2, Inc., works with leading companies to develop transformative innovation capabilities, build innovation ecosystems and accelerate the commercialization of breakthrough new products, services and business models. Mr. Docherty brings a unique perspective on innovation, having been an entrepreneur, senior corporate executive and venture capitalist. In his new book "Collective Disruption", Mr. Docherty reveals how the smartest corporations are learning to partner and co-create with startups for transformative innovation. The book provides established companies with a practical framework for plugging into the startup ecosystem to fuel and incubate new businesses. Mr. Docherty holds an MBA degree from Northwestern University's Kellogg School and BSME degree from Drexel University. He is a highly rated speaker on innovation and corporate venturing and an active supporter of the entrepreneurial community.
Keynote speaker Antonio Nieto-Rodriguez is the Chair of the 2016 Board of Directors of Project Management Institute, the largest project management professional organization, with close to a half million members in over 200 countries. A TEDx speaker and a regular keynote speaker at international events, he emphasizes the strategic value of Project Management. He is the author of the book "The Focused Organization", and has been featured in several magazines, including Strategy Business Review, PM Journal®, PM Network® and The Economist. Mr. Nieto-Rodriguez currently serves as the Director of the Program Management Office at GlaxoSmithKline Vaccines, and is also a professor at the prestigious Duke CE, Instituto de Empresa (Spain), Solvay Ponts (Belgium) and Vlerick (Belgium), teaching courses in Project Management & Strategy Execution.
Born in Madrid, Spain, he undertook undergraduate studies in Germany, Mexico, Italy and the United States. He holds a university degree in economics from the Universidad Complutense in Madrid, Spain and an MBA from London Business School. In addition, he is working on a PhD in strategy implementation.
Following the keynote addresses, selected panelists, from major corporations in the Chicagoland area, will share real life practices and answer questions addressing ways to foster innovation.
Chapter members and non-members are welcome to attend. If you are an executive, PMO senior program director or project director, please click here to request an invite to this event and use the Invitation Code: PR1
With over 4,000 members in the Chicago metropolitan area, PMI Chicagoland is the 5th largest chapter in the world and one of the most active chapters in the Project Management Institute (PMI).