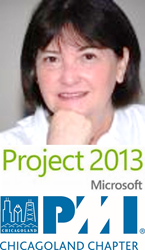 Would you recommend this class to others: ABSOLUTELY!!!
Oakbrook, IL (PRWEB) June 26, 2014
Time to stop fighting MS Project and get creating productive schedules!
PMI Chicagoland, the Chicago Chapter of the Project Management Institute (PMI), is excited to host an important professional development class, facilitated by a Microsoft Project Expert, consultant, trainer and author, Ellen Lehnert, MS Project MVP, PMP, MCP to help project management professionals responsible for managing projects.
Register for Microsoft Project 2010/2013 Best Practices Class
Consultant/Trainer: Ellen Lehnert, MS Project MVP, PMP, MCP
When: July 15 & 16, 2014
Time: 8:30am - 4:30pm
Hosted At: Lewis University, 1111 W 22nd Suite 700, Oak Brook, IL 60523
General and non-member registration: $1100
PMI Member discounted rate: $1000
Participants can earn 14 PDU's for attending.
All levels of MS Project users are welcome
There will be 50% cancellation fee if payee cancels less than two weeks before the workshop (between July 1 and July 15). If class is cancelled by the Chapter, the payee will receive 100% refund.)
The Microsoft Project 2010/2013 Best Practices class is not another button pushing class but tailored to all levels of MS Project users - level differences are addressed as well as the lines of businesses. This course will help you fine-tune schedules, track progress, and evaluate performance. Combining PMI best practices with the right tools unlocks doors to success for project professionals creating processes and schedules of all industries.
Topics that will be discussed:
MS Project database, user interface, creating WBS, Relationships, Lead, Lag, Constraints, Deadlines, Resources, Assignments, Critical Path, Resource Leveling, Baselines, Tracking, Filter & Groups, Reports, and Multiple Projects - Best Practices

Applying PMI principles to Project Scheduling software
Applying Project Management principles to increase project success
Planning so you gain optimum scheduling, reporting, and tracking benefits
Creating a WBS that will facilitate building an effective project schedule
Reporting, Creating Custom Values to support your process
MS Project 2013 new features and differences, plus more
About Ellen Lehnert
Ellen Lehnert, PMP, MCP, is an independent Consultant/Trainer/SME/Author at LehnertCS, LLC who specializes in MS Project and MS Project Server. She is the author of MPUG's "Ask the Expert" column and has contributed and edited many MS Project reference books. In addition she was lead writer, question developer and reviewer for the 74-343 MS Project 2013 certification test. Ellen has taught MS Project over 400 times since 1997, implements MS Project Server, develops processes and curriculums for users and is a frequent event speaker.
About PMI Chicagoland: The PMI Chicagoland Chapter was chartered in 1977 and with a membership base of over 4,300, the Chapter is one of the largest (5th) and most active chapters in the world. Programs are focused on serving local project management practitioners, organizations and universities by providing the tools and support needed to embrace, value and promote success in project management. Chapter members enjoy discounts on events, receive Chicagoland Chapter publications, certification information and benefit from resources in professional development, mentoring, networking and community outreach.