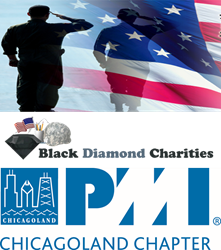 The chapter was very excited when Dawn Bluemke, Executive Director of BDC contacted us for help. We look forward to working with Dawn and her team to assist our veterans in their transition to the civilian workforce.
Chicago, IL (PRWEB) June 09, 2014
PMI Chicagoland the Chicago Chapter of the Project Management Institute (PMI), is chartering a critical social outreach initiative to deliver project management training and mentoring to support veterans transitioning into the civilian workplace environment.
Already a successful program at Fort Bragg, North Carolina, Black Diamond Charities is expanding the program through a strategic partnership with PMI-Chicagoland. This initiative will help PMI Chicagoland make a difference by utilizing project management for social good.
The Chapter will recruit project management volunteers and train veterans from the Chicagoland area in the basics of project management under the auspices of Black Diamond Services (BDS), a Registered Education Provider of the Project Management Institute and parent organization of Black Diamond Charities. Our volunteer trainers serving under BDS's supervision will then match the veterans with a volunteer mentor to help them apply what they have learned when the training is over.
The format of the program will enable students seeking their PMP certification to be able to fulfill the education requirement for PMP exam, arguably the most important industry-recognized certification for project managers. Together, PMI Chicagoland and Black Diamond Charities, aim to provide leadership, coaching, professional growth and adaptation whilst promoting motivation, confidence and leadership to the mentees.
Benefits of the Program
The project management training will give veterans the ability to transfer hard and soft skills into management skills which will increase their confidence in securing employment after transitioning from the military into the civilian workforce. The mentoring, once the veterans are trained, will provide 1-1 support and encouragement to help veterans secure new job opportunities, increased salaries, and career enhancement.
About Black Diamond Charities
Black Diamond Charities is an organization committed to supporting, encouraging and providing those in need with the tools, services and knowledge to further advance themselves through their acceptance of challenges and hard work. The Veterans Program provides skill enhancement training and related support to Armed Forces Veterans and their families.
About PMI Chicagoland
With over 4300 members in the Chicago metropolitan area, PMI Chicagoland is one of the largest and most active chapters in the world. Programs are focused on serving local project management practitioners, organizations and universities by providing the tools and support needed to embrace, value, and promote success in project management.
If you would like to become a member of the PMI Chicagoland Chapter, would like to volunteer or know of someone who would like to join the chapter, please visit http://www.pmi-chicagoland.org for more information.