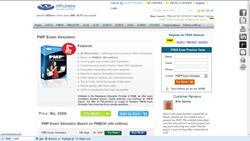 We strive to meet the requirements of a wide variety of clients. In line with this goal, we have stretched our selection of hose fittings that already includes stainless steel fittings, Sani-Lock ®, reusable hose fittings and non-metallic fittings.
New York, NY (PRWEB) December 17, 2013
Whizlabs has been contributing to the growth of the IT certification industry since 2000 through its Instructor Led Training and e-Learning courses. Now, complying with PMBOK 5th Edition, Whizlabs has taken the next move towards conducting PMP Boot Camp Training in Atlanta, Georgia, United States of America. The dates for this workshop are from 20 Jan 2014 to 24 Jan 2014.
Although project management is often ignored in the resourceful process, it's the DNA behind any enterprise. Efficient project management can lead a project to the horizon of its potential, creating an effort that surpasses any normal expectations. On the other hand, poor project management can stall productivity, suppress creativity, or kill a project entirely. After successfully conducting PMP training in a virtual classroom mode, Whizlabs has launched PMP Boot Camp Training in Atlanta, Georgia, United States of America.
Speaking on the launch of this boot camp, Anuj Kumar Sharma, Director Product and Marketing, said, "It's like taking another step towards providing complete solution to PMP aspirants."
This training will help Whizlabs customers in preparing through classroom mode with integrated online support. (Full details)
Whizlabs PMP Boot Camp training aims to help people who want to get into a classroom and learn directly from the trainers. This training will be 5 days, and will make it easier for students to grasp and practice. The trainer explains all the concepts using proper brain map techniques. This training is supported with an integrated online e-learning product support, which it makes it a blended offering (more info). The eLearning comprises of two modes, respectively known as Learning and Certification Mode. The Learning Mode offers 600+ flash cards, detailed study notes, smart tips & tricks and topic wise quiz. On the other hand, the Certification Mode puts the aspirant in the exact atmosphere of the exam, and tests the overall preparation level. This mode comprises of 4 full lengths mock tests each having 200 questions in them. The questions have answers with detailed explanation to clear the concept in a better way (detailed description).
Anyone who's interested in exploring to progress on the Project Management career path could start from this certification. Whizlabs PMP Boot Camp can be of great help in concreting the concepts for the certification exam.
Since October 2000, over 2 million users from organizations such as Cisco, Infosys, Accenture, Deloitte, RMSI, TCS, JP Morgan etc. have benefited through Whizlabs products and services ranging from Exam Simulators, Self Study Training and Online Instructor Led Trainings.
About Whizlabs
Whizlabs is world's premier IT Certification training company and is amongst the pioneer to launch Online Products and Training for all major IT and Project Management Certification preparation.
With the mission of contributing to the growth of IT Education industry, Whizlabs helps build and nurture software professionals and project managers by its online courses and hands-on Online Instructor Led Training for various Java and PMP and Agile certification. Visit Whizlabs site to find more.
For Media queries, please contact:
Alex Johnson
Sr. Business Manager, Whizlabs
Ph: +1-818-575-6625
Email: PR(at)Whizlabs(dot)Com