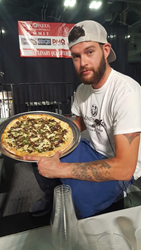 "Never felt this way in my entire life." -- Ryan LaRose
Oxford, Mississippi (PRWEB) September 29, 2016
A former U.S. Pizza Team member capped his comeback to the world pizza stage by winning the Sofo Foods culinary competition in Columbus, Ohio, with a Shitake mushroom-laced winning entry. Ryan LaRose, co-owner of Columbus-based Leone's Pizza beat out four other chefs at the 2016 Sofo Foods Summit September 18, earning a trip to Parma, Italy, in 2017, to compete with USPT at the World Pizza Championship. Watch here to see LaRose's reaction.
"Never felt this way in my entire life," said LaRose, who took a break from USPT after 2012 for family reasons. LaRose's championship pie was topped with Shitakes, Crimini and Oyster mushrooms and White Truffle Oil. The creative pizzaiolo was joined by an ecstatic crew of Leone's co-workers at the awards banquet, including partner and co-owner Travis Koslow, who expressed his extreme pride in the accomplishment.
The Sofo Foods Summit featured product exhibitors from every component of the restaurant industry as well as top website, app and social media developers. Leading point-of-service and online ordering companies like Chowly and Arrow POS offered marketing solutions to "fire up and wire up" restaurant and pizzeria operators.
Earning Honorable Mention for his Buffalo Chicken-inspired pizza was Tom Smith, head chef at Don Tomasso's in Upper Sandusky, Ohio. Smith incorporated chicken, hot sauce and Coleslaw in his innovative entry.
Other competitors were: Tony Gordon of Casa Ristoranti Italiano in Fort Wayne, Indiana; Peter Stabile of Carlucci's Pizza in Grand Rapids, Michigan; and Brad Rocco of Bexley Pizza Plus in Bexley, Ohio