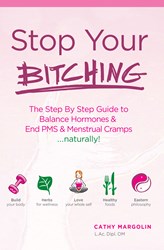 I like my hormones on a short leash and house trained. My book is designed to empower women to gain control over their hormones, rather than hormones controlling them."
Beverly Hills, California (PRWEB) October 10, 2013
In the launch of a breakthrough book by Cathy Margolin, "Stop Your Bitching, a Step by Step Guide to Balance Hormones & End PMS & Menstrual Cramps... naturally!" the author tells women how to take control of their hormones to demystify and end stressful monthly PMS symptoms and Period cramps for life.
"As women, our hormonal cycles can make us an emotional mess! But it doesn't have to be this way. You can take back control of your hormones and understand the process," said Cathy Margolin, Diplomate of Oriental Medicine and Licensed Acupuncturist in Beverly Hills. In her private practice she has helped scores of women understand their hormonal cycles and learn drug-free ways to stay in balance.
The book's launch coincides with Breast Cancer Awareness month, as Margolin brings attention to the studies on artificial hormones, including birth control pills which heighten women's risk for breast cancer. "We should be mindful of educating girls, moms and women of all ages about ways to prevent breast cancer," she said.
Margolin, a health author and contributor to the Huffington Post, tells women there are safer alternatives to popular over-the-counter and birth control drugs often used for PMS & menstrual cramps. Having struggled with debilitating PMS during her teen years, her book teaches women from an Eastern Medicine perspective as she shows women how to read their bodies and understand its messages.
"I like my hormones on a short leash and house trained. My book is designed to empower women to gain control over their hormones, rather than hormones controlling them," said Margolin.
A must-read for women to help them avoid toxins in the products they commonly use, Margolin said, "One reason I wrote this book is I've seen a high rate of teenagers using birth control pills to help regulate debilitating menstrual cramps. The World Health Organization (WHO) cautions about the carcinogenic effects of birth control pills and artificial hormones, yet they continue to be used by teens for menstrual cramps even when natural, drug-free solutions are available."
"Stop Your Bitching...naturally" references more than 100 studies, including those research studies showing higher breast cancer risks for women who take birth control pills for longer periods of time. Since birth control pills are made from the same artificial hormones of estrogen and progestin that are found in Hormone Replacement Therapy (HRT), the negative side effects have already been well documented, the author emphasized.
Available on Amazon.com, at http://www.StopYourBitching.com and at PacHerbs.com.
"My book and its companion piece, '30 Days of Tips to Stop Your Bitching,' are designed for teens and women of all ages," the author said. Written as a fun, easy to read book, it gives girls and women an understanding of their monthly cycles. Margolin tells women that the companion guide also gives them "day-to-day advice to take control of your hormones and because hormones are messengers affecting our entire body, it also helps you get control of your weight, brain fog, fertility, thyroid function, mood swings, and more."
"A drug-free approach is just one piece of the hormonal puzzle," Margolin explained. "We should be aware of exposure to toxins in our foods, nano-particles in cosmetics, parabens in shampoos and BPAs in plastic bottles that are all toxic chemicals acting like estrogen in a woman's body. Health experts around the world are linking these toxins to breast cancer."
The author added, "Women need to read labels and shop smart, using paraben-free cosmetic products, fresh (not canned) vegetables and drink water from glass, not plastic. Women and even young girls have become estrogen dominant as these chemicals trigger our hormonal switches and drive our everyday behaviors."
In addition to her writings, Margolin founded Pacific Herbs, based in Beverly Hills, to offer pharmaceutical-grade Traditional Chinese Herbs to medical professionals and consumers nationwide. Cathy Margolin, L.Ac. Dipl. OM is active in social media where she offers her expertise to help Americans and others about Traditional Chinese herbs at her health blog, http://www.PacHerbs.com/blog, and at Facebook.com/PacificHerbs, Twitter.com/PacHerbs and with a series of videos on YouTube.com/CathyMargolin. Media contact BD(at)DobsonPR.com.