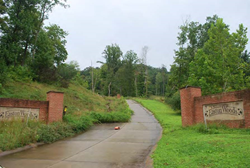 Poca, WV (PRWEB) August 11, 2015
Developers are officially wanted in the West Virginia town of Poca, located less than 25 minutes away from capital (biggest city) Charleston. Within this town of 363,000 residents is a partially developed residential subdivision waiting to be completed.
The Easton Woods Subdivision consists of 78.67 acres, 26 mapped lots, a retention pond, 40.14 acres of residue land including 6.55 acres with frontage on the Pocatalico River with a boat ramp.
Located approximately 20 miles away from the downtown business district of Charleston and in close proximity to the amenities of Huntington, this area is continually showing increases in population and it continues to be one of the fastest growing counties in West Virginia and land remaining for development is limited.
Utilities available include water, sewer, electricity and telephone. Current improvements on the site include the entrance sign, a small portion of concrete street at the entrance, storm sewers, rough streets, sewer lines and conduit for electric, TV cable and telephone lines installed to an estimated 17 lots.
Micoley.com CEO Wade T. Micoley could not be more excited about the potential of this property: "We are excited to work with the future buyer by offering them the opportunity of getting in on the ground floor when it comes to building this community. Poca is an exciting, fast-growing town and there is no doubt these homes will eventually sell fast."
The property is listed at $395,000 with an opening bid of $250,000 if no offer is received before the August 29 auction.
The highly motivated sellers of this property have indicated that they plan to entertain early bids and offers. Buyers are most likely already researching this property, and coming to decisions about whether to make a purchase, so potential buyers are advised to act fast.
Interested parties should visit micoley.com to find more photos and details about the property, or visit in person and perform an inspection on site, which is highly recommended. (866) 371-3619 is Micoley.com's information line. Additionally, Micoley.com features a live chat service through which questions can be answered.
About Micoley.com:
Green Bay, Wisconsin-based Micoley.com is a real estate marketing firm specializing in project focused auctions and sales events of bank-owned and traditionally listed Real Estate throughout the United States. The Micoley.com approach to Real Estate marketing tailors each auction plan to the client's individual needs. The site is constantly being updated for the benefit of buyers, as large-scale auction events are held quarterly, and new properties are added daily.