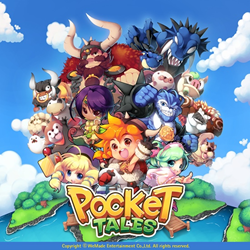 As a player, you have the opportunity to create a beautiful town by harvesting, to defeat enemies with your friends and to connect with friends all over the world
Gyeonggi-do, South Korea (PRWEB) December 23, 2014
Pocket Tales is the latest release from the software developer, WeMade Entertainment. The new game is a mobile Social Network Game (SNG) that is available on Google Play in 134 countries.
"Pocket Tales has already been tested in South Korea for the last two years where it found great success," said the company's spokesperson. "I am certain that the game is ready to meet a wider audience of global game lovers."
In the game, the player is a hero who has been summoned from an eternal sleep by the god, Odin. The player's goal is to expand and grow a peaceful island with Pocket Tales friends. The social game features amazing simulation, including harvesting, farming and battling.
"As a player, you have the opportunity to create a beautiful town by harvesting, to defeat enemies with your friends and to connect with friends all over the world," said the company's spokesperson.
WeMade Entertainment, a Korean mobile-game publisher, went through lengthy development to ensure that the 3D graphics were high quality. In addition, the developers created a unique SOS feature that allows players who need help to get it from friends.
According to the company's website, WeMade Entertainment was established in 2000. Since their beginnings, they have continued to develop and service dozens of PC and mobile-based games that have found much success throughout the world.
WeMade Entertainment is committed to supporting all of their developers and their software, said the company's spokesperson. This will help them to reach the wider market globally and find even more success.
Prior to Pocket Tales, WeMade Entertainment made other highly recognized hit games, including Legend of Mir 2, Legend of Mir 3 and Chun Ryoung Ki. They have also developed other mobile games such as Wind Runner and Every Town, which is scheduled to be available in early 2015.
WeMade Entertain pushes to transform their dreams into reality, and through that reality, they strive to become a gaming company that not only entertains its customers but moves them, said the company's spokesperson.
About WeMade Entertainment
WeMade Entertainment is a Korean mobile-game publisher that specializes in developing entertainment that brings fun and joy to its customers. For more information, please visit http://www.facebook.com/wemade.global
WeMade Tower 49, Daewangpangyoro, 644 beon-gil, Bundang-gu, Seongnam-si, Gyeonggi-do 463400 South Korea