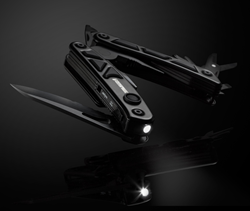 There are many multi-tools on the market, but none offer the amazing utility of two built-in LED flashlights.
TEHACHAPI, CA (PRWEB) May 23, 2014
Power Tek recently released an innovative Fire Talon multi-tool that combines a high-quality pocket knife with two built-in LED flashlights, one on each end. The Fire Talon features premium blades and tools manufactured on Swiss-engineered machinery, along with super bright LED flash lights that gives users the kind of double-illumination power that has never been seen on a multi-tool. The uniqueness and functionality of the Fire Talon makes it the perfect gift for Father's Day, birthdays and all other occasions.
"There are many multi-tools on the market, but none offer the amazing utility of two built-in LED flashlights," said Jonathan Barraclough, the president of Power Tek. "Now users will be able to reach into dark places without needing an extra hand to hold a flashlight."
Power Tek's new product is the ultimate multi-function tool, as it provides easy access to a light—even in cramped spaces where there's no room for a traditional flashlight. The Fire Talon is a must-have device for do-it-yourself projects around the house, tough work-related tasks, camping and other outdoor activities. It features:

A streamlined design with black oxide stainless steel for maximum durability
A 3-inch knife blade that self-locks for safety
Phillips and flathead screwdrivers (with additional flathead tips)
A cap lifter with a can opener
Spring-loaded needle nose pliers with wire cutters
Handy wire strippers
Rubber in-lays built into the handle for a comfortable, no-slip grip
A nylon sheath and one-year manufacturer's limited warranty
The Fire Talon is the second product to be released by Power Tek, which also developed a lightweight, pocket-size UV flashlight. Both devices rely upon LED technology developed by Barraclough, who is an award-winning NASA engineer and former U.S. Air Force officer. Barraclough holds a degree in electrical engineering and has a provisional patent on multiple advanced handheld LED devices.
The Fire Talon currently sells at Amazon.com for $34.95 with a 30-day, money-back guarantee. For more information, please visit http://www.powerteksystems.com or go directly to their Amazon product page here.
About Power Tek
Based in the high-tech environment of Southern California, Power Tek specializes in creating cutting-edge personal lighting devices. The company is owned by NASA engineer Jonathan Barraclough, who has been developing personal LED lighting devices for more than 10 years. Power Tek is excited about its innovative products and is looking to expand rapidly into the online Amazon marketplace. Currently, the company has two products available on Amazon: the Fire Talon and 51 LED UV flashlight. Power Tek is devoted to delivering high quality products and excellent customer service at the most affordable prices.
###