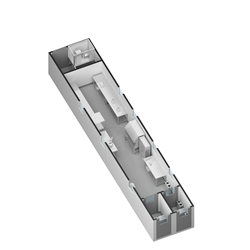 '...in light of recent events, we realized the need for even faster deployment and even better containment with redundancy functions in a transmissible disease application.'
College Station, TX (PRWEB) August 12, 2014
G-CON Manufacturing, Inc., a company well known for their autonomous cleanroom production PODs, announced today that it has launched a transmissible disease containment POD ("TDC POD"). The TDC POD differs from the typical G-CON Manufacturing POD structures in width (8.5 feet) such that it is easily transported by tractor-trailer or its own axle system. The TDC PODs also have double bag-in/bag-out HEPA filters and will be equipped with their own generator unit. All of these features are in addition to the features of the standard PODs which are readily deployable containment and cleanroom systems that include their own air handling systems, cleanable epoxy internal surfaces. All PODs can be cleaned with a number of methods available including vaporized hydrogen peroxide or chlorine dioxide. The PODs represent a robust and reliable containment system, unique and advanced to any other option. In addition, the prefabricated PODs are typically built in 18 weeks. Integrated air bearings make additional support equipment unnecessary upon delivery.
"All our current POD systems already serve as either cleanroom environments and/or BSL containment systems," explained Maik Jornitz, President of G-CON Manufacturing, Inc. "However, in light of recent events, we realized the need for even faster deployment and even better containment with redundancy functions in a transmissible disease application."
G-CON drew upon its technical knowledge in the development of three generations of PODs to innovate and launch the transmissible disease containment POD.
Jornitz stated, "Our comprehensive experience with biosafety level containment and cleanroom structures helped us to develop the TDC POD. The available alternatives are simply not robust enough, lack scaling capabilities and cannot be properly sanitized for repeated uses. Each POD can hold a number of patients and equipment in a larger area, are easily deployable due to their robust aluminum structure and represent the optimal containment due to redundant air filters. Moreover, available integrated VHP or other methodologies make cleaning as simple as pressing a button."
The G-CON Manufacturing team also revealed that additional POD developments are forthcoming shortly, which will serve other patient care needs such as mobile surgical suites.
About G-CON Manufacturing, Inc.
G-CON was founded to address the fact that existing systems and methodologies for constructing biomanufacturing and personalized medicine suites were neither affordable nor flexible enough to meet the rapidly changing market's needs. G-CON's founders have significant experience in designing, building, operating, and maintaining a variety of traditional biomanufacturing facilities. They are familiar with the excessive cost to build, lack of flexibility, and high expense to maintain these traditional facilities and have leveraged this experience to create the G-CON POD™ solution. Moreover, the G-CON team understands that future facility designs must be multipurpose and repurposable, instead of fixed and specialized with ineffective capacity utilization.