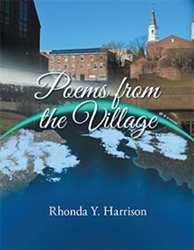 (PRWEB) June 23, 2015
LANCASTER, Pa. – Author Rhonda Harrison's family stressed the importance of family unity, education, giving back to the community and most of all, love of God. Her "village" believes in nurturing all of God's children. Thus, they are living out the old African proverb that "it takes a whole village to raise a child." Her genuine love of poetry and the loss of many dear loved ones have motivated Harrison to publish "Poems from the Village" (published by Xlibris).
This book encourages readers to hear the voice of God and their own voice. It stresses the need to nurture their essence and give back. It explores imaginary and real life scenarios. It evokes thought and emotions as it traverses the seasons of: relationships, joy, pain, grief, love, hate, family, sin and redemption. The provocative poems about Harrison's nephew, Ryan Henry and family hope to reach out and touch reader's soul.
"Everyone has experienced loss, love, victory and challenges," Harrison says. "Poetry has enabled me to cope with adversity. I navigate the seasons of life and relationships with poetry. I share my authentic personal experiences as well as whimsical topics."
"Poems from the Village" is Harrison's first published work. It also has a short story written by a local college student, Stephanie Guzman, included in the afterword. She introduces Guzman and illustrators Susan Rodriguez and Brooklyn Deramos in this book as some of the bright, new voices in the arts. Through the publication of this book, Harrison hopes readers will reach their heights by embracing their gifts early in life. She suggests that they read the book through once in its entirety and then refer back to it as a reference during adversity or for enjoyment.
"Poems from the Village"
By Rhonda Y. Harrison
Hardcover | 8.5 x 11in | 84 pages | ISBN 9781503560635
Softcover | 8.5 x 11in | 84 pages | ISBN 9781503560642
E-Book | 84 pages | ISBN 9781503560659
Available at Amazon and Barnes & Noble
About the Author
Rhonda Harrison is an advocate and guardian of children and the community/village in which they are raised. She holds a Masters of Business Administration degree from Elizabethtown College. She is one of Jehovah's Witnesses. She is married to a loving husband of 24 years and has three beautiful children, a daughter-in-law and four lovely grandchildren. Harrison enjoys music, reading, traveling and storytelling. Her venture Reach Your Heights (RYH) aims to advocate for all nationalities to reach their full potential in business, reading, writing and the arts. She can be reach through her Facebook account (Rhonda Y. Harrison), at poemsfromthevillage.com or rhondayharrison.wordpress.com.