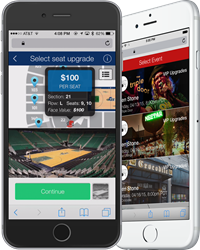 "Jazz fans are some of the most dedicated in the NBA and we believe that they will relish the opportunity to get closer to the action at games using their mobile devices"
Venice, CA (PRWEB) February 19, 2015
Pogoseat has partnered with the Utah Jazz and will be rolling out seat upgrades for fans attending Jazz home games beginning this Friday, 2/20/15, as the Jazz take on the Trail Blazers.
Upgrades will be available via the Utah Jazz mobile app. Fans can select the 'Upgrade' option from the menu and they will be able to browse a map of the arena displaying pins to indicate open seats. To sign-up for event notifications, please visit the Jazz upgrade page by clicking here.
Making its way into live music, Pogoseat has partnered with Red Light Management and will be offering select VIP Upgrades for the "Evolution of an Artist" concert series featuring Allen Stone. The five-concert series will be running at various Seattle venues from April 13th through April 18th. Tickets are limited and can be purchased by clicking here.
"Evolution of an Artist" upgrades will be offered via the Pogoseat mobile application via the Pogoseat iPhone and Android app, and will be available for purchase beginning one week before the start of the concert series. For each event, fans will be able to purchase VIP packages that include a meet & greet with Allen Stone as well as the opportunity to hang out for the sound check and receive autographed merchandise.
"We are thrilled to have the opportunity to collaborate with Red Light Management and bring VIP upgrades to the 'Evolution of an Artist series'", said Evan Owens, CEO of Pogoseat. "We hope that these upgrades will give Allen's fans an opportunity to better connect with him and ensure that they have unforgettable experiences at his concerts."
Additionally, various Pogoseat partners including the Sacramento Kings, Detroit Pistons and Cleveland Gladiators have successfully launched VIP upgrades. Available VIP upgrade options include the chance to shoot around on the court after games, seat visits from team mascot, access to view pre-game warm-ups, etc. These upgrades are available via the respective team apps.