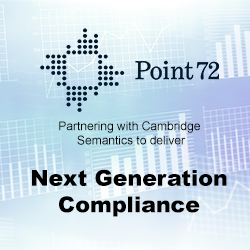 "Our new knowledge graph platform is a game changer, allowing us to rapidly incorporate new learnings, feedback, and business requirements with almost no overhead or delay into our compliance process," said Brooke Trahan, Chief Surveillance Officer, Point72.
BOSTON (PRWEB) May 13, 2021
Cambridge Semantics is pleased to announce a strategic relationship with Point72 to power Point72's suite of cloud-based compliance applications. Under the agreement, Point72 has licensed Cambridge Semantics' Anzo®, the most scalable knowledge graph platform available today. Anzo offers a broad array of data integration and analytic capabilities including search, business intelligence, and graph analytics.
Anzo is a scalable knowledge graph platform featuring the embedded, MPP graph engine AnzoGraph. Anzo allows companies to integrate and harmonize data from across their businesses and functions into a single, scalable system while taking advantage of the benefits of knowledge graph technology. The graph can model links and provide users real-time updates of millions of daily events across structured and unstructured data. Using Anzo, Point72's compliance team will be able to onboard, display, and search data more efficiently.
"As we tune our applications to keep pace with the fast changing regulatory landscape and improve operational efficiency, we are continually making changes to the algorithms, data model, or the data itself," said Brooke Trahan, Chief Surveillance Officer, Point72. "The speed and agility with which we can now make those changes using our new knowledge graph platform has been a game changer, allowing us to rapidly incorporate new learnings, feedback, and business requirements with almost no overhead or delay."
The industry-first collaboration advances the compliance technology at the firm while helping derive insight from the underlying data. This approach, referred to as a data fabric, integrates data across the firm in a highly reusable way.
"Our relationship with Point72 builds upon our deep expertise delivering knowledge graph and data fabric solutions in the financial services industry," said Ben Szekely, Chief Revenue Officer at Cambridge Semantics. "Asset management, like many regulated industries, faces increasing compliance requirements and must integrate a vast array of diverse structured and unstructured data sources in near real-time. With our approach, Anzo users can solve those immediate problems while unlocking further insights and possibilities from their data."
Along with the platform, Cambridge Semantics provides expert services to assure the success of knowledge graph implementations. "The compliance team at Point72 had a clear vision that enabled our collaboration and the teams worked really well together to assure seamless integration," said Jessamin Yu, Vice President of Customer Success at Cambridge Semantics.
About Cambridge Semantics
Cambridge Semantics Inc. is a modern data management and enterprise analytics software company. Our product Anzo® is a scalable knowledge graph platform for modern data integration and analytics. Anzo dramatically simplifies and accelerates the integration, modeling, and blending of siloed data into insight-rich knowledge graphs at enterprise scale. Anzo is built on AnzoGraph®, the fastest & most scalable knowledge graph engine supporting data integration, graph algorithms, data warehouse-style analytics, feature engineering for Machine Learning, and more.
The company supports solutions that enable IT departments and business users across Life Sciences, Financial Services, Government, Manufacturing, and other industries to accelerate data delivery and provide meaningful insights across the organization.
Cambridge Semantics is based in Boston, Massachusetts.
Visit cambridgesemantics.com or follow us on Facebook, LinkedIn and Twitter: @CamSemantics.
About Point72
Point72 Asset Management is a global firm led by Steven Cohen that invests in multiple asset classes and strategies worldwide. Resting on more than a quarter-century of investing experience, we seek to be the industry's premier asset manager through delivering superior risk-adjusted returns, adhering to the highest ethical standards, and offering the greatest opportunities to the industry's brightest talent. For more information, visit http://www.Point72.com/about.