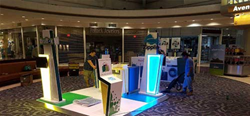 We are known in the Miami community as the go-to service for custom kiosk and point-of-purchase displays
Miami, Florida (PRWEB) September 07, 2016
Cepero Remodeling, a unique company using CNC Machine Services for custom commercial displays, kiosks, and point of purchase designs for businesses in Miami, Ft. Lauderdale, and West Palm Beach, is proud to announce an ambitious website upgrade for Fall, 2016. The new site showcases the company's custom numerical control technology for South Florida businesses.
"We are known in the Miami community as the go-to service for custom kiosk and point-of-purchase displays," said [NAME], general manager at Cepero Remodeling. "Our website upgrade makes it easy for prospective customers to view our services online and brainstorm their own custom displays for businesses and stores in Miami, Ft. Lauderdale, and West Palm Beach."
To view the upgraded website on custom commercial display design, visit http://ceperoremodeling.com/. Interested parties are urged to reach out for a consultation on their custom point of purchase, kiosk, or other custom design needs.
Custom Commercial Display Design and CNC Machine Services
What's unusual about today's economy is the synergy between man and machine. Nowhere is this more evident than in the custom commercial display design business. First, the business owner or marketing manager should brainstorm what an ideal display will look like? Design is something that the consumer takes for granted and yet in an almost subliminal way the design of product displays can motivate a buy decision by the consumer. Design, while 'invisible,' is incredibly important to point-of-sale success in cities as diverse as Miami, Fort Lauderdale, and West Palm Beach. Cepero Remodeling is unique in that it is one of the few companies that uses expensive, and hi-tech CNC (Custom Numerical Control) technology for its design capabilities. The experts at Cepero Remodeling work with customers from the initial brainstorm session to the complete design and installation of custom commercial displays, such as mall kiosks or in-store displays. The new website upgrade better shows this technology on the Internet, but there is no substitute for an in-person consultation and completed custom design project.
About Cepero Remodeling
Based in Miami but serving the greater South Florida area such as Ft. Lauderdale and West Palm Beach, Cepero Remodeling is known as the place to go for custom design services. Using CNC machine technology, the company designs and builds custom commercial displays, custom POP displays, and store fixtures. In addition, the company does custom closet and custom kitchen cabinet designs as well as custom office furniture.
Cepero Remodeling
Web. http://ceperoremodeling.com/.