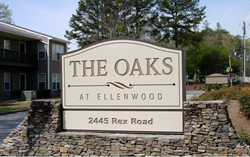 We are pleased that we were able to turn this property around and provide both our investors as well as our residents a positive and successful outcome
Atlanta, Georgia (PRWEB) November 13, 2014
PointOne Holdings, a real estate investment company with offices in Hollywood, Florida, and Atlanta, Georgia, is pleased to announce the sale of The Oaks at Ellenwood, a 240 unit multi-family apartment community located 14 miles from the City of Atlanta in Ellenwood, GA. The property sold for $9.8 million or $40,800 per unit.
PointOne Holdings originally purchased the property in August 2012 out of receivership for $4.5 million or $18,750 per unit. The company invested $1.2 million in value-added capital improvements which included rebranding the property, enhancing the Property's exterior curb appeal, renovating the leasing and community center and targeting specific interior unit upgrades.
"This deal represents another exciting success in the growth of PointOne Holdings" said Craig Sternberg, one of PointOne Holdings' managing members. "We are pleased that we were able to turn this property around and provide both our investors as well as our residents a positive and successful outcome."
During PointOne Holdings' ownership, and with the help of Hammond Residential Group Management, occupancy at the property rose from 65 percent upon acquisition to over 93 percent at the time of sale. In addition, average rents rose more than $70 per unit during that period.
"We took the Oaks at Ellenwood from an underperforming distressed property to a model residential community in the city Ellenwood" commented David Lewin, managing member of PointOne Holdings. "It's a great example of our ability to successfully create value by implementing a capital improvement program while aggressively building a sense community for the residents."
In the last 12 months, PointOne Holdings has acquired in excess of $100 million in income producing real estate properties including residential and commercial assets. Additionally, the Company has a $51 million office portfolio under contract expected to close November 20.
About PointOne Holdings
PointOne Holdings is an investment and operating platform composed of highly skilled real estate professionals and entrepreneurs with a unique ability to originate, structure, underwrite, close, asset manage and reposition under-performing and value-add multifamily residential and commercial real estate. With offices in Atlanta and South Florida, the firm has the resources, experience and strategic relationships required to access, acquire and operate a broad range of investment opportunities throughout the southeastern United States.
The principals of PointOne Holdings have collectively owned and operated more than 9,000 multifamily apartment units and more than two million square feet of commercial property. PointOne Holdings currently owns and manages a diversified portfolio of residential, commercial and hospitality assets with a value of more than $200 million.