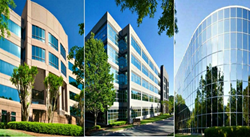 We expect these well-positioned buildings will benefit from the continuing commercial and residential growth occurring along Birmingham's 280/459 corridor
HOLLYWOOD, Florida (PRWEB) November 21, 2014
PointOne Holdings, a real estate investment group with offices in Hollywood, Florida, and Atlanta, Georgia, in partnership with ESJ Capital Partners, today acquired International Park and Blue Lake Center in Birmingham, Alabama, for $51 million or $135 per square foot.
The three buildings encompass 377,921 square feet of high-quality Class "A" office space in one of Birmingham's most sought after submarkets, the 280/459 corridor.
With a blended occupancy of 90 percent, Blue Lake Center and International Park enjoy superior access along Interstate 459, which connects Birmingham's business district with its thriving and affluent suburban areas. Furthermore, the properties are located less than one mile from the long-awaited $300-million Trinity Medical Center well as The Summit Mall and The Shoppes of Colonnade, two premier retail destinations in Birmingham.
"We are extremely excited to be entering the Birmingham market with such high-quality properties as our initial acquisition" said David Garfinkle, a PointOne Holdings managing member. "We are satisfied with the purchase price and see significant opportunity for additional growth via future new leases, leasing expansions and lease term extensions."
International Park and Blue Lake are leased to a diverse roster of national and local firms including Tyco, Prudential, Hoffman Media, Command Alkon, BE&K, Martin Marietta Materials, Principal Financial, RxBenefits, EBSCO, BASS, McKesson Corporation, Home Mortgage of America and IBM.
The office portfolio will be managed and leased by CBRE's Birmingham office, which is also one of its current tenants. "We are thrilled to leverage our expertise to continue leasing and managing these quality assets, while building a long term relationship with PointOne Holdings," said David Fullington, CBRE Senior Vice President.
PointOne Holdings obtained a non-recourse, commercial mortgage-backed securities (CMBS) loan at a fixed rate with a 10-year term from Starwood Mortgage Capital to complete the acquisition and was advised by Charles Foschini and Jason Hochman of CBRE Capital Markets.
"The Blue Lake Center and International Park properties provided us with an attractive opportunity to acquire best-in-class, stabilized and cash-flowing assets in a desirable market with strong fundamentals" said Ben Colonomos, a PointOne Holdings managing member. "We expect these well-positioned buildings will benefit from the continuing commercial and residential growth occurring along Birmingham's 280/459 corridor."
About PointOne Holdings
PointOne Holdings is an investment and operating platform composed of highly skilled real estate professionals and entrepreneurs with a unique ability to originate, structure, underwrite, close, asset manage and reposition under-performing and value-add multifamily residential and commercial real estate. With offices in Atlanta and South Florida, the firm has the resources, experience and strategic relationships required to access, acquire and operate a broad range of investment opportunities throughout the southeastern United States.
The principals of PointOne Holdings have collectively owned and operated more than 9,000 multifamily apartment units and more than two million square feet of commercial property. PointOne Holdings currently owns and manages a diversified portfolio of residential, commercial and hospitality assets with a value of more than $200 million.