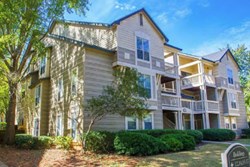 We have successfully acquired two assets in the past 30 days for an amount close to $50 million and over $100 million dollars over the past 12 months
(PRWEB) January 30, 2014
PointOne Holdings, a real estate investment group with offices in Hollywood, Florida and Atlanta, Georgia, announced the acquisition of Grove Park Apartments, a 312-unit garden style apartment community located in Norcross, Georgia (Metro Atlanta) for $12.75 million. This is PointOne Holdings' sixth major multifamily / commercial acquisition in the past 18 months.
The multifamily property was acquired via Auction.com from special servicer CW Capital. The acquisition and renovation financing was provided by A10 Capital.
PointOne Holdings plans to invest in excess of $2.5 million in capital improvements to the property. The renovation plan includes upgrades to unit interiors, exterior siding replacement, mechanical/plumbing enhancements and improved curb appeal. Additionally, PointOne Holdings will improve the amenities package by adding a business center, a dog park, security cameras and outdoor BBQs.
"Grove Park presents us with a fantastic opportunity to acquire a true value-add multifamily property in a great location, strategically close to another asset in our portfolio," said Leo Peicher, managing member of PointOne Holdings. "We believe there is a trend moving folks away from mortgages and home ownership, which is leading to positive growth in the apartment rental market. We are taking advantage of this shift and look forward to further growth in this space."
"We have successfully acquired two assets in the past 30 days for an amount close to $50 million and over $100 million dollars over the past 12 months. We continue to actively pursue other multifamily and commercial opportunities throughout the southeastern United States," added David Garfinkle, managing member of PointOne Holdings. "This was our first Auction.com transaction and it was flawlessly executed both by Auction.com and our lender A10 Capital whose assistance was material in us being able to secure this property at auction."
"PointOne Holdings is obviously committed to being a major force in the multifamily and commercial markets in the southeastern United States, and we look forward to working with them on many future transactions" said Joseph Cuomo, senior vice president at Auction.com.
"We've had the opportunity to finance PointOne Holdings previously on another multifamily turn-around asset in metro Atlanta. Seeing first hand their ability to successfully execute on their plan on our prior deal made working on this transaction very straightforward from our perspective. With Grove Park, we feel that PointOne Holdings is getting a good, solid, asset at great pricing with a strong value-add story" stated Chuck Taylor, A10 Capital Principal & Executive Vice President. "For our part, having a local presence allowed us to get out to see the asset quickly, assess the opportunity and ultimately provide non-recourse senior financing with a future facility to tackle the extensive capital program that PointOne Holdings has planned, all within the extraordinarily tight auction closing timeline. For a valued repeat client, this kind of transaction demonstrates the strength and capabilities of our lending platform"
"A10 is thrilled to bring the capital to fund this transaction within the tight time frame of the auction. The Auction.com marketplace is changing the way Commercial Real Estate is being traded, and the synergy that exists between our companies creates a competitive advantage for dynamic companies like PointOne Holdings" stated Alisha Hill, A10 Capital Senior Vice President of Auction Finance.
About PointOne Holdings
PointOne Holdings is an investment and operating platform composed of highly skilled real estate professionals and entrepreneurs with a unique ability to originate, structure, underwrite, close, asset manage and reposition under-performing and value-add multifamily residential and commercial real estate. With offices in Atlanta and South Florida, the firm has the resources, experience and strategic relationships required to access, acquire and operate a broad range of investment opportunities throughout the southeastern United States.
The principals of PointOne Holdings have collectively owned and operated more than 9,000 multifamily apartment units and more than two million square feet of commercial property. PointOne Holdings presently owns and manages a diversified portfolio of residential, commercial and hospitality assets with a value of more than $150 million.