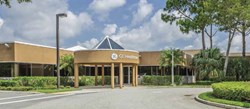 We could not be more pleased with the acquisition of this facility in an area that has attracted the attention of some of the most prominent biotech firms in the world
HOLLYWOOD, Florida (PRWEB) December 20, 2013
PointOne Holdings, a Real Estate Investment Group with offices in Hollywood, FL and Atlanta, GA, announced a $30,700,000 closing on the purchase of the Jupiter Medical and Technology Park in Jupiter, Florida. The acquisition and renovation financing was provided by RAIT Financial Trust. The 186,000 square-foot facility is situated on a 16-acre campus and is currently 92% occupied.
The city of Jupiter is emerging as a world renowned hub for biotech, healthcare and aviation innovators and is the home to Scripps Florida Research Institute, the Max Planck Institute for Neuroscience and the biosciences-focused Florida Atlantic University, as well as a number of private technology companies including Florida Turbine Technologies who anchors the property along with GE Medical Healthcare Services. "We could not be more pleased with the acquisition of this facility in an area that has attracted the attention of some of the most prominent biotech firms in the world, including Scripps and the Max Planck Institute. The property and location are 'one of a kind' in one of the most dynamic marketplaces in the state" said David Garfinkle Managing Partner for PointOne Holdings.
Along with GE Medical Healthcare Services and Florida Turbine Technologies; tenants at the property include the Jupiter Medical Center which was named one of the 50 best hospitals in the country by HealthGrades for three years in a row and Jupiter Kidney Center. PointOne Holdings plans to implement a $1,500,000 capital improvement program in the property including a complete roof replacement, recoating of the building exteriors and a new branding of the building including enhanced signage and other aesthetic enhancements.
There is approximately 15,000 square feet available for lease and NAI/Merin Hunter Codman has been engaged to manage and lease the property. The site also offers the potential for future development. "This property is an ideal fit for the PointOne Holdings portfolio. It has strong current cash flows with long term stable tenancy, plus the ability for future development and property improvements that will provide a maximum return on investment," said Craig Sternberg, PointOne Holding's Managing Partner. "In addition, we believe that North Palm Beach and Jupiter in particular are just starting to realize the economic benefits of these world-class biotech firms and we are thrilled to own such a significant asset".
About PointOne Holdings
PointOne Holdings is an investment and operating platform composed of highly skilled real estate professionals and entrepreneurs with a unique ability to originate, structure, underwrite, close, asset manage and reposition underperforming and value-add residential and commercial real estate. With offices in Atlanta and South Florida, the firm has the resources, experience and strategic relationships required to access, acquire and operate a broad range of investment opportunities throughout the southeastern United States.
The principals of PointOne Holdings have collectively owned and operated more than 9,000 multifamily apartment units and more than 2 million square feet of commercial property. PointOne Holdings presently owns and manages a diversified portfolio of residential, commercial and hospitality assets with a value of more than $150 million.