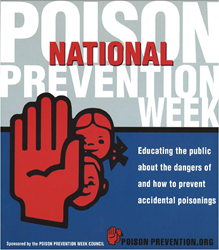 It's estimated that 40 children die every year as a result of unintentional poisoning.
Dallas, TX (PRWEB) March 17, 2014
National Poison Prevention Week began Sunday, March 16th, and runs through Saturday March 22nd. Started more than 50 years ago, the event seeks to reduce the number of deaths due to accidental poisoning in the United States. It's estimated that 40 children die every year as a result of unintentional poisoning, and keeping poisonous substances from young children remains an ongoing effort for parents around the country.
At Rasansky Law Firm, our Dallas personal injury attorney team understands the dangers that exist when it comes to children and toxic substances in the home. Manufacturers are generally required to make containers which have child-proof seals to stop even the most curious of children from opening them.
Ingestion of poison usually requires immediate medical attention. We can work to reduce the number of accidental poisonings by educating parents about this danger, and raising awareness of certain precautions to take.
Here are a couple of pointers you can note down to help avert poisoning accidents:
1. Keep all poisonous substances locked up and out of sight. A locked cupboard beyond the reach of a typical child is a great idea. At the same time, make sure not to leave keys where a child can find them.
2. Make sure to leave original labels on potentially hazardous products. Transferring them into unmarked or foreign containers heightens the chances of you or someone else mistaking these products for something else, ending in poisoning.
3. Don't take medicine in front of children. This may pique their curiosity, making them think that it's something sweet or 'candy', increasing the chances of them seeking out these pills to ingest.
4. Keep the Poison Help Hotline number with you at all times: (800) 222-1222.
If you follow these, and other commonsense pointers, you'll be able to keep your family safe from most household accidental poison risks.
Media Contact: Jeff Rasansky, Rasansky Law Firm in Dallas, 214-651-6100, http://www.JRLawFirm.com/