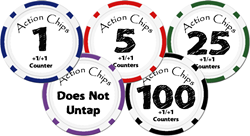 As a backer you will receive a discount on my chips as they will start out at $1.25 per chip and go for as much as $2.00
Shelby Township, MI (PRWEB) January 29, 2015
Like many people, Michael Kimble enjoys playing the tradable card game Magic: The Gathering. The game involves building up a collection of cards and battling against opponents and their deck. In order to help create a more visual playing field for Magic: The Gathering, Kimble recently launched a Kickstarter campaign to raise funds to create custom poker chips.
As Kimble explained, the poker chips he is working on are not the same kind that are used in traditional poker games or by gamblers. Although they are shaped like poker chips, they have been customized to be action chips that Magic: The Gathering players can shuffle and play with while their opponent thinks of his or her next move.
The company that Kimble is currently working with to have his chips printed only prints them one-sided. To get the action chips printed on both sides—which will look a lot nicer and be easier to keep track of—he has to order at least 10,000 chips. To do this for just one of his designs, Kimble needs to raise at least $10,000.
Kimble has created five types of poker chips for Magic: The Gathering: a One+1/+1 Counter Chip, a Five + 1/+1 Counter Chip, a Twenty-Five +1/+1 Counter Chip, One-Hundred +1/+1 Counter Chip and a Does Not Untap Chip. As its name implies, the One+1/+1 Counter Chip is for placing +1/+1 counters on permanents, like Creatures and Planeswalkers.
"Once you have four and you need to put a fifth simply place the Five + 1/+1 Counter Chip on after removing the four you already have on," Kimble said, adding that the Does Not Untap Chip helps provide consistency to the game.
"When Tidebinder Mage enters the battlefield and locks down your Siege Wurm you can place this chip on the Siege Wurm so you know not to untap it in your next untap step," he said.
Since the One +1/+1 Counters are the most popular and commonly used chips, Kimble will use the first $10,000 that he raises to print them as double sided action chips. For each additional $10,000 that is raised, Kimble will order another double-sided chip. Over time, he hopes to create additional chips as well as a poker chip case for people to tore and transport their chips.
Anybody who would like to learn more about Kimble's fundraising campaign is welcome to visit his Kickstarter page; there, they can read about his project and how donors will be rewarded.
"As a backer you will receive a discount on my chips as they will start out at $1.25 per chip and go for as much as $2.00," Kimble said.
"So what are you waiting for? Back this project and get some poker chips to use during your next MTG session."
About Michael Kimble and his Kickstarter Campaign
Michael Kimble is a 23-year-old entrepreneur from Michigan. He recently launched a Kickstarter campaign to raise money to print double-sided poker chips for Magic: The Gathering players to use. For more information, please visit https://www.kickstarter.com/projects/1716033623/poker-chip-counters-for-magic-the-gathering-action