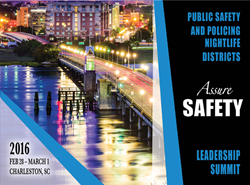 The Leadership Summit will enhance the tools and techniques for reducing risk while maintaining vibrancy
Santa Cruz, CA (PRWEB) January 21, 2016
The Responsible Hospitality Institute (RHI), in partnership with the Major Cities Chiefs Association is honored to announce Ronald L. Davis, Director, US Department of Justice Office of Community Oriented Policing Services as the luncheon speaker on Tuesday, March 1 in Charleston, South Carolina at the Public Safety and Policing Nightlife Districts Leadership Summit. In December 2014, Davis was appointed by President Obama as Executive Director of The President's Task Force on 21st Century Policing.
Bringing the lessons learned by the President's Task Force, and the experience of public safety leaders from throughout North America, RHI's Leadership Summit (Sunday, February 28 - Tuesday, March 1, 2016) aims to enhance the tools and techniques needed for cities to reduce risk while maintaining vibrancy where people gather to meet and socialize.
The program begins on Sunday with an introductory seminar on Public Safety and Policing Nightlife Districts Seminar. Monday and Tuesday programs will feature general sessions, including:

RHI Leadership Summit participants will also become familiar to Charleston's successful approach to public safety and policing nightlife and will have the opportunity to attend more than a dozen other presentations, workshops and discussions.
This landmark event is presented in cooperation with the Major Cities Chiefs Association, the Charleston Police Department, Charleston Area Hospitality Association, Greater Charleston Restaurant Association, Inc. and Charleston Area Convention & Visitors Bureau. The Summit venue is the historic Francis Marion Hotel, centrally located between Charleston's vibrant nightlife and retail shopping districts.
The Responsible Hospitality Institute (RHI) is a nonprofit organization founded in 1983 with a mission to assist businesses and communities to create safe and vibrant places to socialize. During the past decade, RHI has worked with more than 60 US and Canadian cities to assess strengths and opportunities to enhance their nighttime economy. Contact RHI president Jim Peters at 831.438.1404 to discuss how RHI can assist your city.