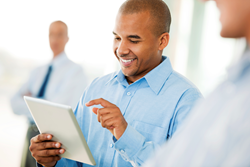 21st century Policy and Procedure communication is not just about a more modern presentation; it's also about implementing a smarter content strategy.
St. Louis, MO (PRWEB) March 28, 2017
Today COMPROSE Inc. announced the rollout release of its new cloud-based software for policies and procedures, Zavanta Online. Based on the popular desktop version, Zavanta Online enables organizations to get key know-how out of heads and into a practical, knowledge system employees want to use. Employees have secure, private 24/7 access to the latest best practices, policies, standard operating procedures, and FAQs from any device with a browser. Zavanta auto-generates a highly engaging online experience that makes the traditional manual extinct.
Feedback from early adopters has been overwhelmingly positive. The Cloud platform makes it convenient to create, manage, and share operational know-how on a highly secure platform. There's nothing to install, no IT is required.
Zavanta Online totally revolutionizes the way modern organizations capture and communicate their operations knowledge. "Besides the 'clunkiness,' of the traditional manual, it's what's inside those binders that really makes them obsolete," says COMPROSE Founder, Kathy Anton. "21st century Policy and Procedure communication is not just about a more modern presentation, but it's also about implementing a smarter content strategy. No one wants to waste their time creating content that no one understands or uses and will never get updated."
Zavanta enables even novices to create a communication system that is purposely-designed to improve operations and standardize training. The way to do that is to give employees access to all the information they need to perform their jobs correctly, without having to go ask someone for help.
"Online, web delivery opens up a new world of communication possibilities including videos and links to other systems and supporting information. Links to Zavanta-generated content can be placed into other systems such as a SharePoint portal or learning management system."
In situations where workers don't have access to a computer, Zavanta provides printed output as well as a Manual Maker. Zavanta's database design is based on a concept called "single source publishing." Content is re-purposed without the user having to do any re-formatting for: print, manuals, MS Word documents, PDFs, and online websites.
"The future is mobile, meaning smaller screens. Knowledge workers, especially younger employees, will expect a better experience than scrolling through 100-page Word documents. Static documents require massive conversion efforts and the inconsistencies inherent in these documents makes searching next to impossible. Zavanta's content is responsive from the get-go, meaning that output is automatically resized to work well on large monitors, tablets or smartphones. It's time to bring knowledge transfer into the 21st century."
Since 1987, COMPROSE Inc, has worked with hundreds of organizations across all industries to help them streamline operations and standardize training and compliance. COMPROSE's Zavanta software is the 21st century tool for capturing and communicating "how to knowledge" such as work processes, policies, standard operating procedures (SOPs). Zavanta replaces conventional manuals and Word documents with a modern "system" that actually IMPROVES processes, products and customer satisfaction.
To learn more visit http://www.comprose.com and sign up to watch the Zavanta demo videos.