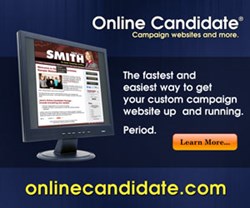 By including OnlineCandidateResources.com access, we provide far more than just campaign design and hosting services.
Montgomery, NY (PRWEB) January 07, 2014
OnlineCandidate.com, a leader in campaign website design services, now offers additional resources for new and existing clients.
Starting this month, all Online Candidate campaign website packages will include free access to OnlineCandidateResources.com.
"Opening up our political resources site will help all our website clients," says Carol Daley, Partner at OnlineCandidate.com. "Online campaigning has evolved. Local candidates need more than just a website. They need to know how to market their website and leverage other opportunities like social media, building an online reputation and online fundraising. "
OnlineCandidateResources.com is an extension of the Online Candidate website service. It is designed for local campaigns who want to leverage online communication to reach, communicate and motivate supporters. The site's goal is to distill the online opportunities, tools, and strategies for candidates to reach out to voters and help build the support necessary to win an election.
OnlineCandidateResources includes:
Training Modules: Users can discover the secrets of online political campaigning and learn at their own pace. The module articles cover the most important information candidates need to know. There are also supplemental and how-to articles complete with video, links and additional resources.
Online Tools: Access innovative online tools, including a Campaign Letter Generator, Email Template Generator, Bookmark Submission System, Website Information Lookup Tools and more.
Download Area: Access files, PDFs, white papers and other materials for download and use in campaigns.
Member Forum: Members can ask questions and get answers. Learn from others and get feedback that can help campaigns perform better.
Resource Directory: Includes a selection of helpful websites, online tools and resources.
"Our campaign tools and information sets us apart from our competitors," Daley adds. "By including OnlineCandidateResources.com access, we provide far more than just campaign design and hosting services."
Existing Online Candidate clients can log on to their website administration and check the Dashboard or the Marketing Tab for registration information.
To learn more, visit http://www.onlinecandidateresources.com.
About OnlineCandidate.com
Since 2004, Online Candidate has provided powerful political website services at affordable prices. For more information, visit http://www.onlinecandidate.com.