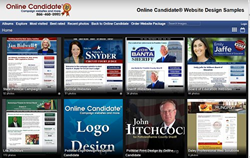 We've improved the overall look and layout of all our political template designs
Montgomery, NY (PRWEB) October 30, 2014
OnlineCandidate.com, provider of political website design services, announces improvements to its campaign website design templates.
"We've improved the overall look and layout of all our template designs," says Carol Daley, Partner at OnlineCandidate.com. "Styles have been updated and there is now a wider variety of custom fonts for clients to choose for the site header and body text."
The Lite Website Package designs are template-driven. Clients can choose from dozens of color scheme templates and header images to create a unique look. The template designs work for all types of campaigns, but particularly for judicial, sheriff and school board elections.
The built-in content management system allows for easy website updates and provides built-in tools specifically designed for political candidates. Domain registration and hosting are included with the package. Campaigns can accept online donations, recruit supporters, add events and upload photos, build an e-mail list, run a poll and more.
"Clients can create their website design by simply choosing from a variety of design options," Daley adds. "The system does the rest. No coding or design skills are needed. Clients with little or no web skills can put together professional looking websites."
Regular and Enhanced Website Packages include a custom header and color design that can incorporate a candidate's head shot, campaign logo and other graphical elements. Lite Packages can also be upgraded to a fully custom design for the price difference between the packages.
All Online Candidate website package clients get exclusive access to exclusive online marketing tools through OnlineCandidateResources.com and priority listings on OnlineCandidateLinks.com, the political candidate directory.
Samples of both template and custom designs can be found at http://www.onlinecandidate.com/gallery/
About OnlineCandidate.com
Since 2004, Online Candidate has been the trusted leader in political website design and hosting. Online Candidates provides an easy-to-use online campaign platform loaded with built-in tools and additional resources. For more information, visit http://www.onlinecandidate.com.