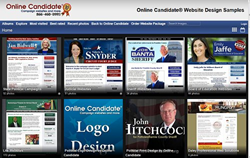 This is a way to showcase our work and give clients ideas for how they might want their own campaign website to look.
Montgomery, NY (PRWEB) March 05, 2014
OnlineCandidate.com, a provider of political campaign websites, has updated and expanded its website design gallery.
"We've been looking to better integrate this section," says Carol Daley, Partner at OnlineCandidate.com. "It is a way to showcase our work and give clients ideas for how they might want their own site to look."
The new sample campaign website design section is broken up into separate galleries, including state political campaigns, judicial, sheriff, school board, county and local political positions. Visitors can see the most visited, best rated and most recent samples. Samples can also be searched by type, color or primary design element.
Political print pieces, custom logos, non-political sites, and layouts for Online Candidate website templates are also featured.
The gallery acts as a showcase for Online Candidate's political website packages. Each package includes domain name registration, hosting, a built-in content management system and tools. Election campaigns can accept online donations, integrate social media, recruit supporters, add events, build an e-mail list, run a poll, and more.
The Lite Website Package is designed for candidates on a budget. This package includes a complete content management system and built-in tools specifically tailored for political candidates. A wide selection of template header images, color styles, and font types are available for users to choose from in order to create a unique look.
The Regular Campaign Website Package includes a custom website header and design. Additional features include an online poll, form integration, events calendar, multiple user accounts and more. Sites can be expanded with more pages, a multi-level site menu and multiple user accounts. Data capture is included with submitted forms.
The Enhanced Package contains all the features of the Regular package, but also includes an initial content setup. Site text and images are arranged for a pleasing look and configured for best SEO practices. After the content is set up, the site is turned over for the client to control.
The updated election website samples and themes can be found at http://www.onlinecandidate.com/gallery.
Additional political campaign ebooks, brochure templates, website template designs and other digital items can also be found at http://www.onlinecandidate.com/store/.
About OnlineCandidate.com
Online Candidate provides political candidates and organization with affordable campaign website packages and marketing resources. For more information, visit http://www.onlinecandidate.com.