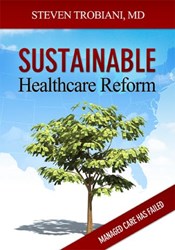 For most young individuals in their 20s who will never use more than $5,000 worth of healthcare in any given year, this deductible means that they are essentially still uninsured though they are now paying premiums for the privilege of being uninsured."
Minneapolis, MN (PRWEB) December 11, 2013
Prior to the passage of the Affordable Care Act, President Obama promised that the legislation would reduce premiums for a family of four by $2,500 per year. This has become one of the many broken Obamacare promises. Fortunately for the president he made no predictions about the deductibles under his plan.
Deductibles represent the portion of medical expenses that must be paid by the consumer before health insurance coverage takes place. According to CBS news MoneyWatch the average individual deductible for a bronze plan is $5,081 per year, representing a 40% increase in the deductible prior to implementation of Obamacare. (1,2)
According to Steven Trobiani, M.D., author of "Sustainable Healthcare Reform: Harnessing the Power of Capitalism to Fund Our Social Needs", these deductibles fall hardest on the lower and middle classes. "Even for those individuals qualifying for subsidies under Obamacare, this represents a significant expense as those subsidies only serve to offset premium expense, not deductible expense," states Dr. Trobiani. "Thus for an individual earning $20,000 per year, this deductible represents a whopping 25% of his or her income. For an individual earning $50,000 per year, this represents 10% of his or her income but the unsubsidized cost of premiums will most likely again bring the cost closer to 25% of income. For most young individuals in their 20s who will never use more than $5,000 worth of healthcare in any given year, this deductible means that they are essentially still uninsured though they are now paying premiums for the privilege of being uninsured."
Dr. Trobiani advocates a more practical approach to healthcare reform. He states that we can solve our country's healthcare dilemma by employing capitalist tools to reform the funding of healthcare rather than the delivery of healthcare. Through his patented approach to healthcare finance, we can do for healthcare what 401k plans and IRAs did for retirement. This plan will:

Stabilize healthcare costs.
Preserve and strengthen employer-sponsored healthcare.
Limit employee healthcare expenses to the annual HSA contribution.
Eliminate employer healthcare costs after an initial vesting period.
Increase the net worth of companies using this plan.
Improve the quality and affordability of healthcare.
To learn more about this innovative approach to healthcare reform go to https://www.politicsandhealthcare.com and order a soft-cover copy of the book "Sustainable Healthcare Reform", also available as an e-book through Amazon.com.
Steven Trobiani, M.D. is the author of "Sustainable Healthcare Reform: Harnessing the Power of Capitalism to Fund Our Social Needs" and the founder of Politics and Healthcare, Inc., https://www.politicsandhealthcare.com. The mission of the company is to foster legislative change that will enable economically sustainable healthcare reform and minimize governmental interference. The goal is to achieve truly affordable healthcare that meets the needs of employers, workers and healthcare professionals.
1. Picchi, Aimee, "For some, Obamacare deductibles deliver sticker shock", CBS News MoneyWatch, 12/09/2013.
http://www.cbsnews.com/news/obamacare-deductibles-deliver-hefty-sticker-shock/
2. Coren, Courtney, "Consumers Face Higher Deductibles Under Obamacare Plans", Newsmax, 12/09/2013.
http://www.newsmax.com/Newsfront/premiums-deductibles-obamacare/2013/12/09/id/540772