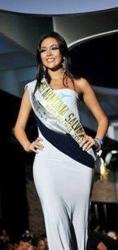 (PRWEB) July 09, 2013
Ms. Alejandra del Castillo has plenty to smile about. Not only was she crowned this year's Miss Bolivia Mundo, she also is enjoying great body contouring and fat reduction results with TriLipo Technology by Pollogen.
TriLipo is comprised of two effective technologies (TriLipo RF and TriLipo Dynamic Muscle Activation) that work simultaneously using a single applicator to deliver non-invasive fat removal and lymphatic drainage as well as a host of other aesthetic treatments including cellulite reduction, body contouring, skin tightening, wrinkle reduction and facial skin rejuvenation.
Trilipo is delivered through the Maximus Platform. The safety and effectiveness of the Maximus was recently validated in a peer reviewed article published in The Journal of Cosmetics, Dermatological Sciences and Applications. During the clinical study, 20 women aged 35 - 65 received 8 weekly facial treatments. Results demonstrated significant wrinkle reduction, improvement in skin tonus and dramatic facial skin lift effect.
The Maximus platform is distributed through BE Well Salvador Madrid. "Pollogen's aesthetic medical devices have quickly gained a following here is in Bolivia. Pollogen solutions offer significant aesthetic results and treatments are safe, painless and require very minimal downtime. Many leading physicians are already familiar with Pollogen and are excited about their innovative technological advancements," said Salvador Madrid owner of BE Well Salvador Madrid.
See more pictures of the event on Pollogen's Facebook page
About Pollogen:
We believe in constantly challenging ourselves to create the most advanced, effective medical aesthetic technologies and solutions. We believe in thinking differently.
In everything we do, we take a customer-centric approach by making our products user-friendly, safe and convenient. At Pollogen there is no such word as "done"; we continually perfect our solutions to provide treatments that are pleasant and effective. We believe in finding ways to develop technologies that work with the body's natural mechanisms so beautiful results are generated from within.
Pollogen is the developer and manufacturer of five revolutionary technologies under the industry premier brand names OxyGeneo™, Hybrid Energy™, TriPollar®, TriLipo® andTriFractional™. We offer a full line of clinically-proven, safe and effective, non-invasive anti-aging facial and body contouring treatment platforms for a wide range of aesthetic applications. Pollogen provides solutions for professionals in over 60 countries, addressing the specific needs and dynamic changes unique to the ever-evolving aesthetic industry.