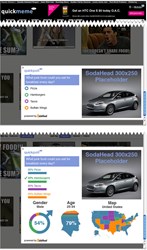 Bloggers love that they get paid by adding a poll to their blogs... Pollware will blow away WP-Polls.
Los Angeles, CA (PRWEB) October 22, 2013
SodaHead, Inc. announces the launch of its Pollware ad-supported polling solution for small and medium-sized publishers. Publishers earn ad revenue with this best-in-class polling solution. SodaHead reported serving millions of polls using Pollware in its first month.
"We're very excited by the success our initial partners experienced," said Jason Feffer, SodaHead's Founder. "Bloggers love that they get paid by adding a poll to their blogs -- and they earn double the CPM rates compared to their other ads. And engagement rates on polls shot through the roof."
Website owners add this free software-as-a-service (SaaS) with a snippet of code in their page, WordPress template, or via an ad server. Editors can author their own custom polls or choose from pre-written polls created daily by Sodahead. Feffer says publishers are always shocked by how easily they can implement and immediately earn money.
Chris Dominguez, the company's CEO, explained how "everybody wins" using Pollware: "Publishers get paid to engage their audience with polls and visitors enjoy expressing opinions and matching their peers with our demographics feature."
ESPN, FoxNews, Los Angeles Times, Warner Bros Television and niche sites like the Orlando Magic use the enterprise version of SodaHead's polling software.. Pollware extends most of those advanced poll functions to small publishers and bloggers. Pollware includes maps and demographics, which competitors such as Polldaddy and WP-Polls lack.
SodaHead earned a loyal WordPress following with more than 60,000 downloads of its poll plugin. Feffer says SodaHead plans to convert the WordPress Poll plugin to Pollware by the end of 2013. "We haven't updated the plugin in a while -- but bloggers will be very pleased with the revenue opportunity and advanced features offered in Pollware. We've listened to our users and studied the competition -- the wait was well worth it: Pollware will blow away WP-Polls."
About Pollware:
SodaHead delivers instant revenue to medium- and small-publishers with ad-supported polls. Pollware includes a content management system (CMS) for bloggers to author polls, customize the poll widget, and get advanced reporting. Publishers can elect to have SodaHead's editorial department ask polls targeted to their audience. Pollware also has a white-labeled, ad-free version. For more information on Pollware, visit http://www.sodahead.com/about-us/pollware/.
About SodaHead, Inc.:
SodaHead is the premier provider of polling technology for world class media companies led by former MySpace and Viacom executives. Media and brands can engage their audience using SodaHead's custom Content Management System (CMS) and Application Programming Interface (API). The Los Angeles-based company is privately-held and venture backed. For more information on SodaHead, visit http://www.sodahead.com.