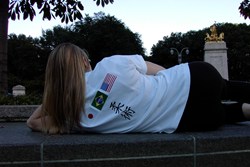 Portland, Oregon (PRWEB) August 05, 2013
Sara "The Kerrminator" Kerr, an artist, designer & illustrator based in Portland, Oregon has teamed up with Crooked Brook and is conducting a MMA-Brazilian Jiu Jitsu Custom Polo Shirt Giveaway on the aptly named The Kerrminator's Blog.
"Guess what, my avid readers and embroidery fans!" said Sara "We've been talking so much about embroidery lately; I think it's time to announce that I have teamed up with my friends at Crooked Brook to sponsor an embroidered polo shirt giveaway!"
The polo shirt is embroidered with the flags of Japan, Brazil, the USA, and the Jiu Jitsu kanji on the back with the Jiu Jitsu kanji on the left front chest.
For more information or how to enter, visit: http://thekerrminator.wordpress.com/2013/08/02/mma-brazilian-jiu-jitsu-custom-polo-shirt-giveaway/.
About Sara Kerr
Sara Kerr aka "The Kerrminator" is an Artist, Designer & Illustrator based in Portland, Oregon. She is available for commissioned drawings, paintings, custom matting, hand crafted wood frames, logo design, graphic illustration, book illustration, and fashion illustration just to name a few of her specialties.
About Crooked Brook
Crooked Brook is a unit of the atelier division of an art studio that offers full service apparel design, pattern making, sample making, private-label small lot production, direct-to garment printing and embroidery. Since 1989, they've built a strong reputation of providing top-notch apparel designs, patterns, fit and production samples for many brand name catalogs and retailers, as well as wardrobe and costumes for movies, television and theater.
In addition, Crooked Brook offers promotional products, items, decorated apparel and accessories such as; jackets, fleece jackets, hats, shirts, polo shirts, golf shirts, fleece blankets, sweatshirt blankets, hoodies, sweatshirts, tote bags and aprons that can be customized with the following apparel decorating methods:
Embroidery
Tackle Twill
Appliqué
Direct to Garment Printing (DTG)
Sublimation
Crooked Brook ships worldwide. Hours of operations are 7:00 a.m. to 7:00 p.m. EST, seven days a week. Reach them at (315) 733-1992 to learn more.