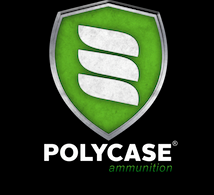 People enjoy our ammunition because it features increased velocities with reduced recoil
SAVANNAH, Ga (PRWEB) January 05, 2015
PolyCase Ammunition will be attending the Ellett Bothers Dealer Show 2015 in Columbia, SC from January 6-9. Ellet Brothers, a division of United Sporting Companies, is one of the largest distributors of sporting goods in the United States and sells exclusively to sporting goods dealers. This will be PolyCase's first year attending the Ellet Brothers Dealer Show.
At the show, PolyCase will be offering patent-pending ammunition products, including the new Inceptor™ by PolyCase® line of brass case ammunition featuring PolyCase's® injection molded projectiles. The Inceptor™ line features ammunition designed for various applications such as: RNP (Extreme Precision), ARX (Self-Defense) and Firefly (High Visibility Tracer) are available in the following calibers.380 Auto, 9mm Luger, .40 S&W, and .45 Auto.
The 2015 Ellett Brothers Dealer Show includes shooting, hunting, and marine industry vendors and will be held at the SC State Fairgrounds at 1200 Rosewood Dr., Columbia, SC 29201 on January 6th-9th 2015.
"We look forward to a growing partnership with Ellett Brothers and their distribution channels," says Paul Lemke Founder and CEO of PolyCase Ammunition. The Ellett Brothers Dealer Show attracts retailers interested in selling products in the fast growing shooting and outdoor sports markets. "PolyCase has an innovative product line that we hope to get into more people hands for 2015."
PolyCase, a Savannah, GA based company, specializes in ammunition product design and manufacturing through the micro-injection of advanced materials to produce patent-pending ammunition that is precise, consistent, effective and accurate.
"People enjoy our ammunition because it features increased velocities with reduced recoil," Mr. Lemke mentions. "The result is more accurate shots and more consistent performance. The PolyCase process delivers a precise, accurate, and fun-to-shoot product, and we are glad to be on the cutting-edge of this great industry."
PolyCase will be taking orders for to the Inceptor™ by PolyCase line of products and will be available to answer general questions about technology and manufacturing at the Ellet Brothers Show. For more information please visit: http://polycaseammo.com/
###
About PolyCase Ammunition
PolyCase Ammunition develops, manufactures, markets, and sells world-class, patent pending, small arms ammunition and projectiles used by discerning professionals and sports shooters. Made in the USA, using over ninety years of advanced design, materials and manufacturing experience; our twenty-first century products are designed to provide the lethality and consistency expected by our customers.
The PolyCase Ammunition team consists of experts in chemical, mechanical, advanced materials and industrial engineering, ammunition research, development, testing, and evaluation, precision manufacturing, marketing, and U.S. domestic and international sales. We have proudly partnered with other industry leaders to provide our deserving customers with ammunition manufactured using only the most efficient components.
About Ellet Brothers
Ellett Brothers distributes more than 60,000 products, from over eight hundred manufacturers and suppliers. The product lines include firearms, reloading, marine electronics, trolling motors, optics, cutlery, archery equipment, ammunition, leather goods, camping equipment, sportsman gifts, and a variety of other outdoor sporting goods products.
Their customer base consists of 20,000 independent retailers in all fifty states. Ellett Brothers has been recognized by customers and the shooting industry as Distributor of the Year eight times in the past 10 years; a testimony to our ongoing commitment of service and support of the industry in order to protect the future of hunting, shooting and water sports for years to come.
Media Contact
Karl Hirsch
714-348-0145
Noble Mouse